The results are in
Finding your audience, keeping your thoughts close, beating creative block, avoiding perfectionism and beautiful bookmaking.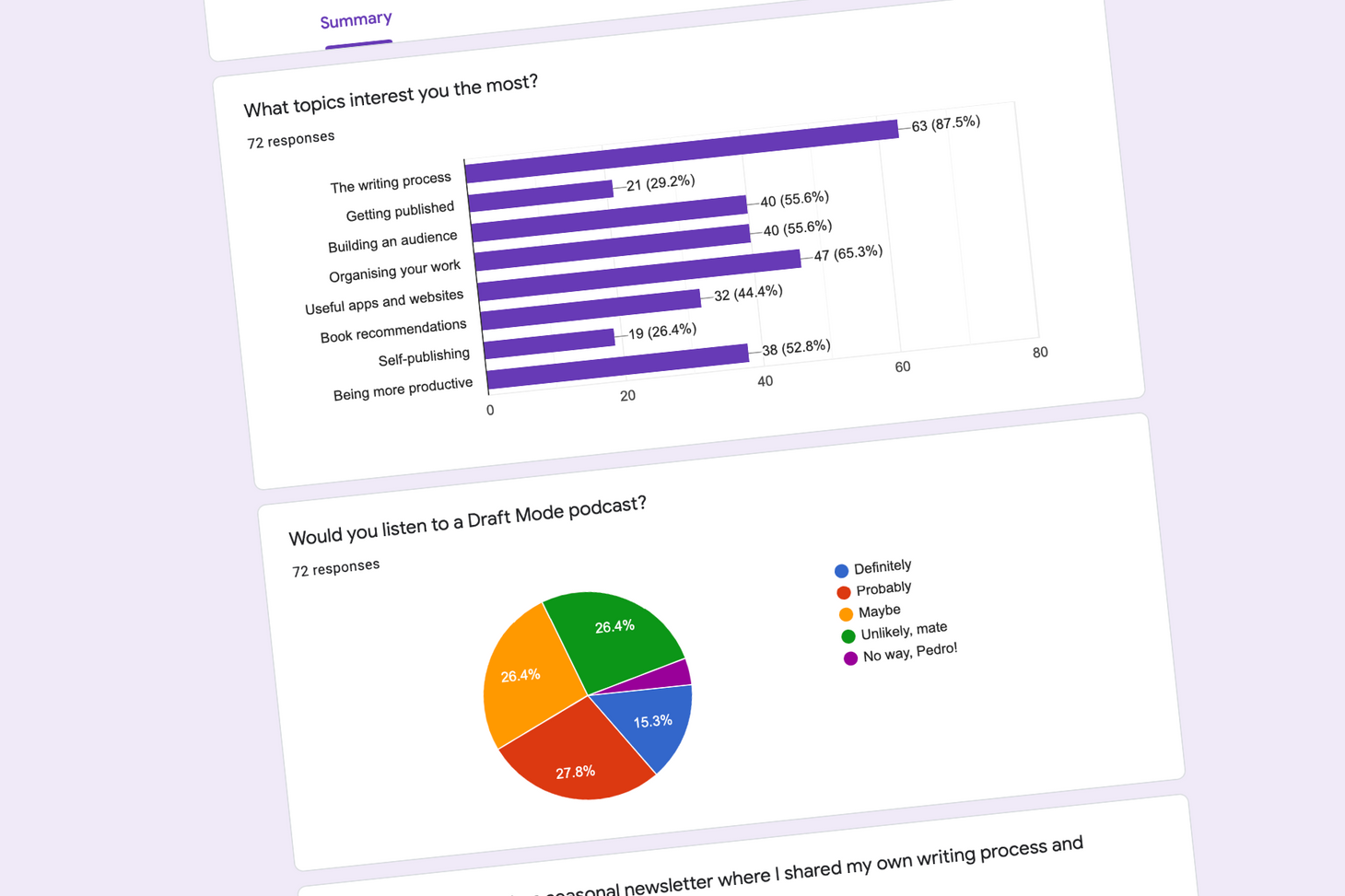 Toot toot! It's time to board the Draft Mode newsletter train again with me, Iain Broome your enthusiastic host (driver?).
Last month, I asked you to complete a short survey to help me make sure I keep sending you the stuff you actually want to receive. If you haven't responded and want to have your say, the survey is still open right here.
As with previous surveys, I am more than happy to share the results with you. It might help you understand any changes I make or decisions I take over the coming months. Quick spoiler: this newsletter stays essentially the same.
I've published the results and my thoughts and feelings about them in a blog post.
Here's the magic link: Results of the great Draft Mode survey 2021.
That's it! Write (to) you next week.
Iain
---
Links of the week
Every issue I collect and share the best advice, apps and other shenanigans that I find on my internet travels. Find something useful? Subscribe for free.
The Craft of "Kissa by Kissa" — Bookmaking in Japan
Last year, Craig Mod published Kissa by Kissa, a beautiful book of photography and vignettes. He runs a successful membership programme that has given him the freedom to make the book using high-quality materials and craft. I'm a member. I have a copy. And it really is a gorgeous object. This short documentary shows how it was made.
Mod writes about how he approaches the membership stuff here:
---
Can Your Desk Help You Organize Your Thoughts?
I like the look of CJ Chilvers' desk, which also happens to be a whiteboard. There is something about being able to have your thoughts close at hand when you're working – to have them right there in front of you. I use Post it notes and have them all over my shed walls.
---
How to move past a creative block
I really like the format of David Gane's newsletter – five things on a specific topic each week. In this issue, you can find pieces on writer's block and digging yourself out of a creative rut. It's all good stuff, though I disagree on reading The War of Art, which starts okay before turning into a load of old psychobabble and plenty of hey, just write!
---
6 Tips for Finding Your Book's Audience
This blog post is by Rick Lite on Ingram Spark. There are some good tips here, like researching who writes in your genre and knowing what kind of cover your readers might expect to see. But there's also a lot that makes me grind my teeth, mostly because I want to believe it's always best to write the book you want to write then worry about marketing when it's ready.
---
A super tip this in the ace newsletter by Nicole Zhu:
In publishing and journalism, the abbreviation "TK," which (confusingly) stands for "to come," is used to note material that will be added in later. [...] Since a lot of writer's block is rooted in the fear of being bad, seeing my screen dotted with TKs helps break me out of that quest for perfectionism. When I see a TK, it feels neutral. The writing isn't good or bad yet—it just needs more work.
Struggle to move on when you know something isn't quite right with your writing? Then try this  simple solution! I'm going to give it a go myself.
---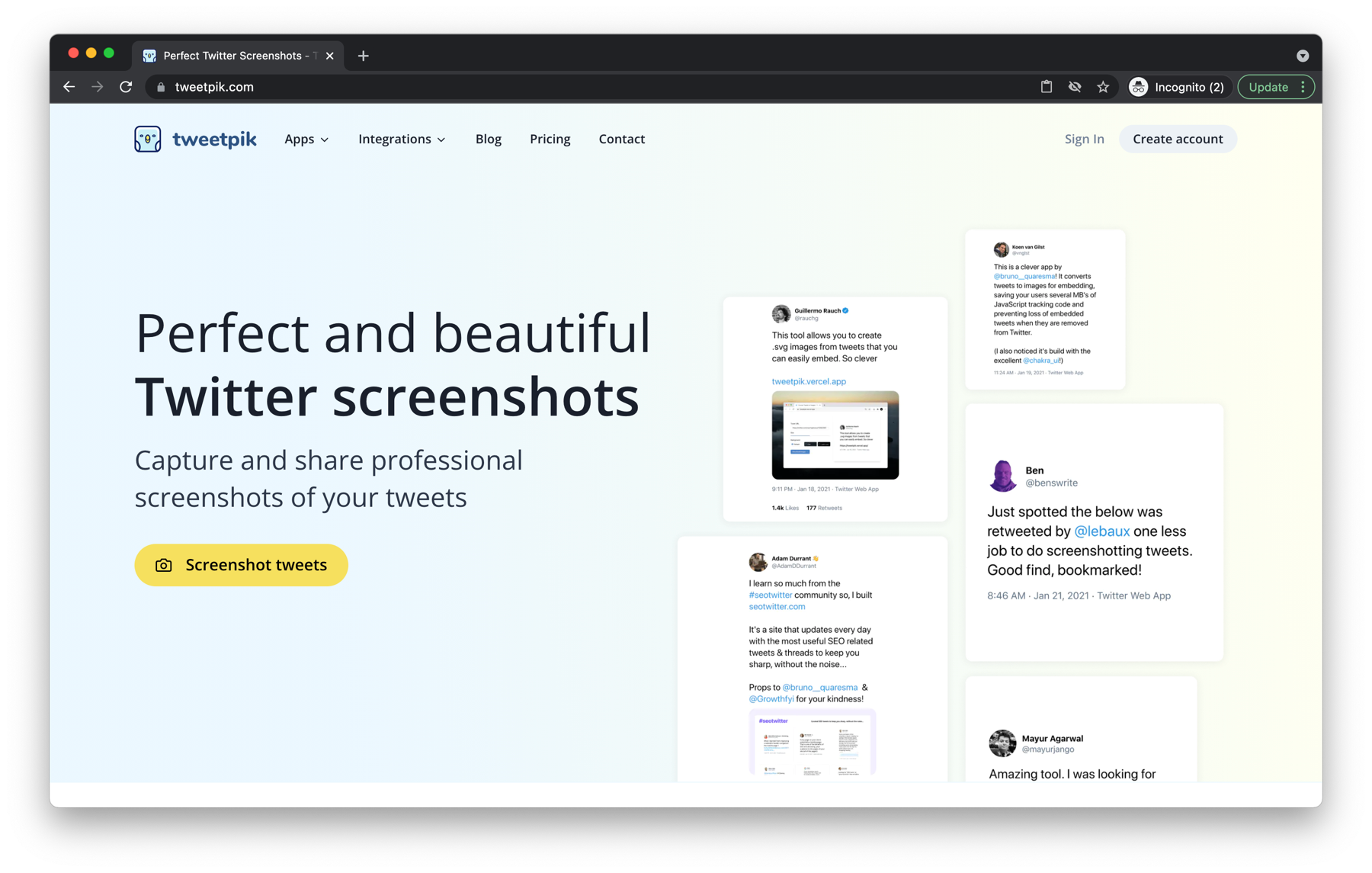 TweetPik – take perfect Twitter Screenshots
You may have noticed that since I switched to Ghost, my Tweets of the week don't display well in the emails, even though they look great on the web version. One solution is to use a tool like TweetPik which quickly takes a screenshot of a tweet. There is also Poet.so too, which does a similar job but with fewer features.
How might you use this yourself? You could display tweets where people have said nice things about your book, podcast, newsletter, or whatever. TweetPik even allows you to create a 'Twitter wall' of testimonials or, as they say, social proof. Imagine that!
---
Tweets of the week
Tweets are but smashed tiles fallen from the walls of the world's stinkiest toilet block. But some of them are quite good. You can follow @iainbroome and @DraftModeHQ on Twitter.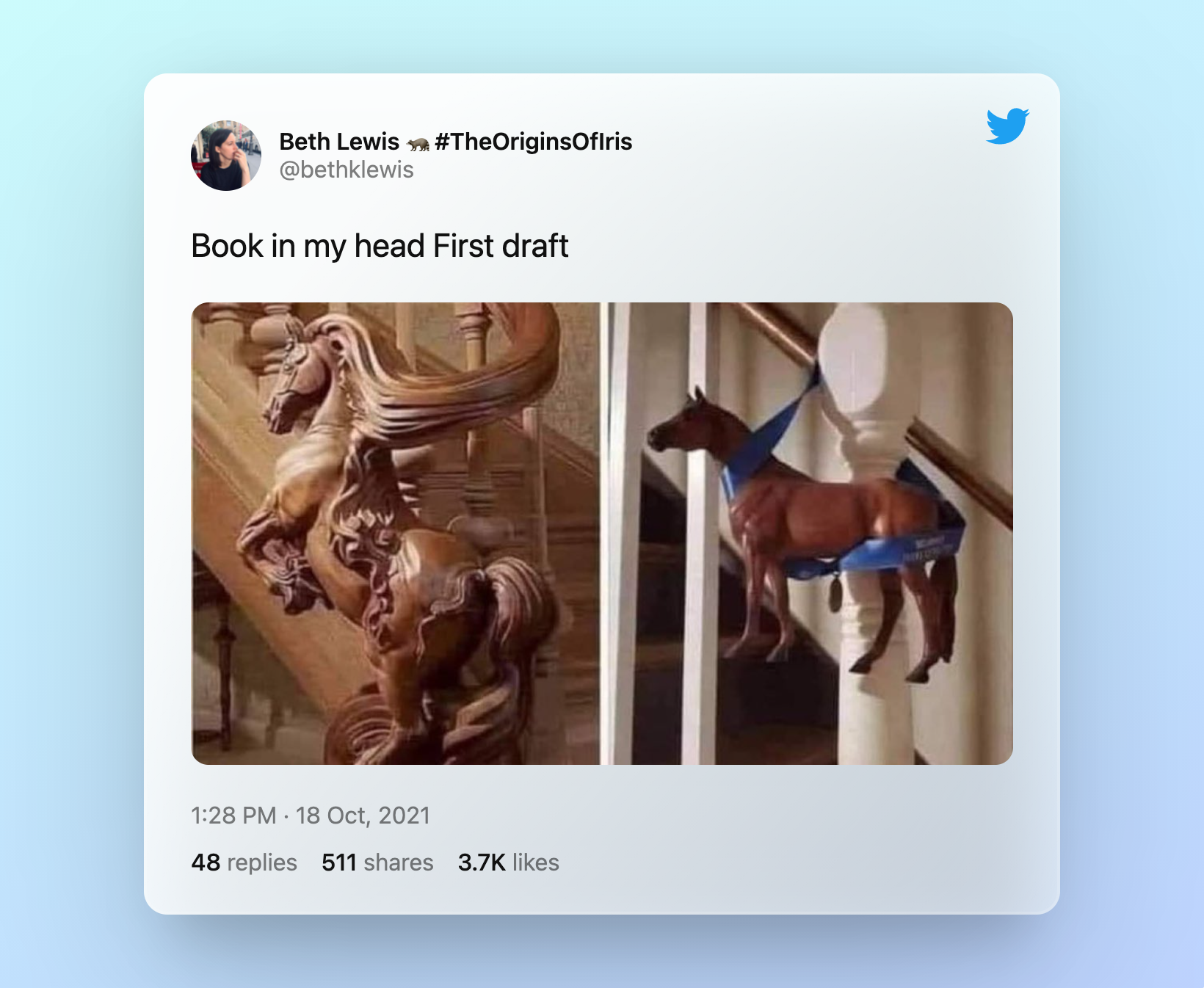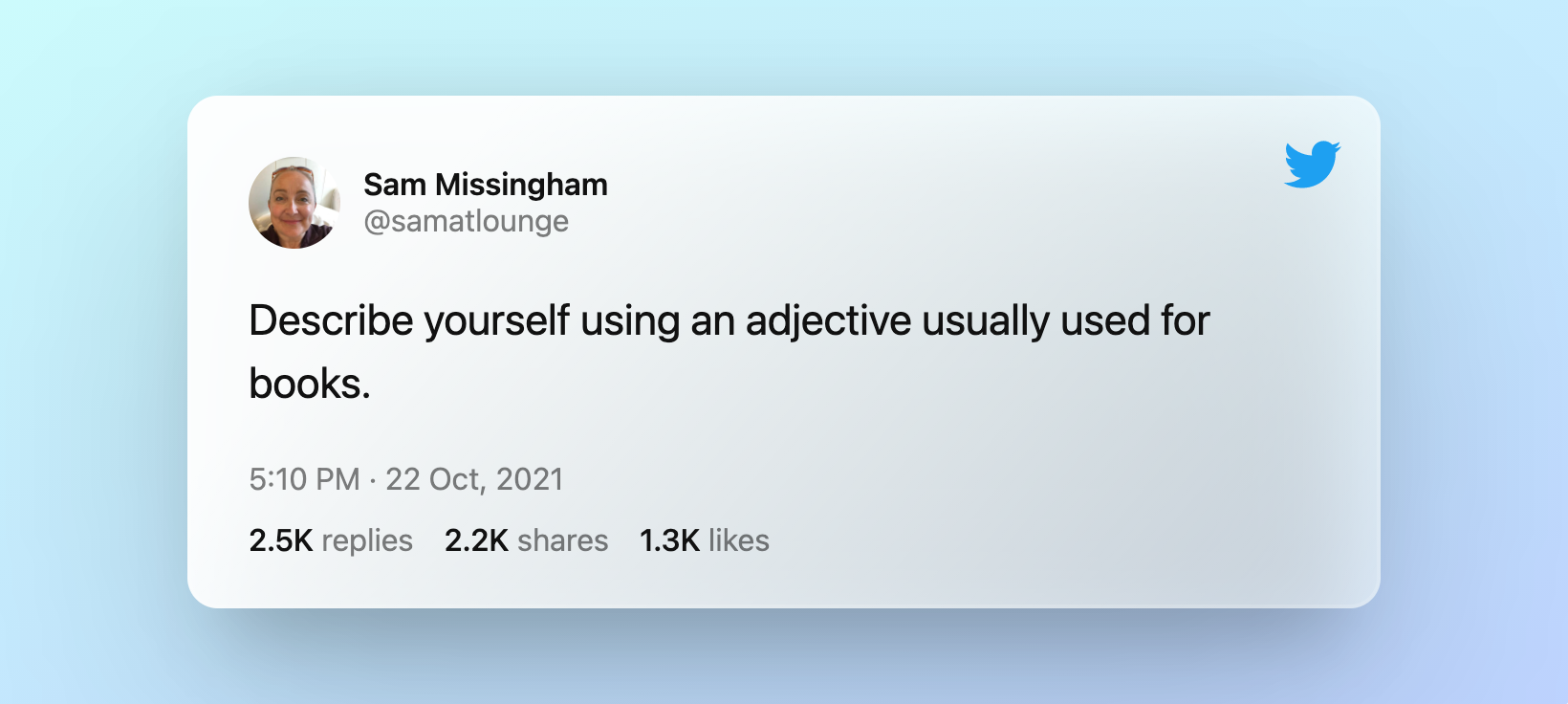 ---
---
First-time reader?
Draft Mode is a weekly newsletter by Iain Broome, author of the novel, A is for Angelica. Join 1250+ subscribers and start receiving the tools and tips that help you improve, publish and promote your writing. Subscribe for free.
Join 1600+ super subscribers
I send two regular newsletters. Draft Mode (biweekly) is about the writing process, writing resources, creativity and being an author. Minifictions (monthly) features five original pieces of flash fiction.
Sign up once. Choose your newsletters.
Subscribe now