Results of the great Draft Mode survey 2021
Take a look at all the charts and graphs following my recent survey of Draft Mode newsletter subscribers.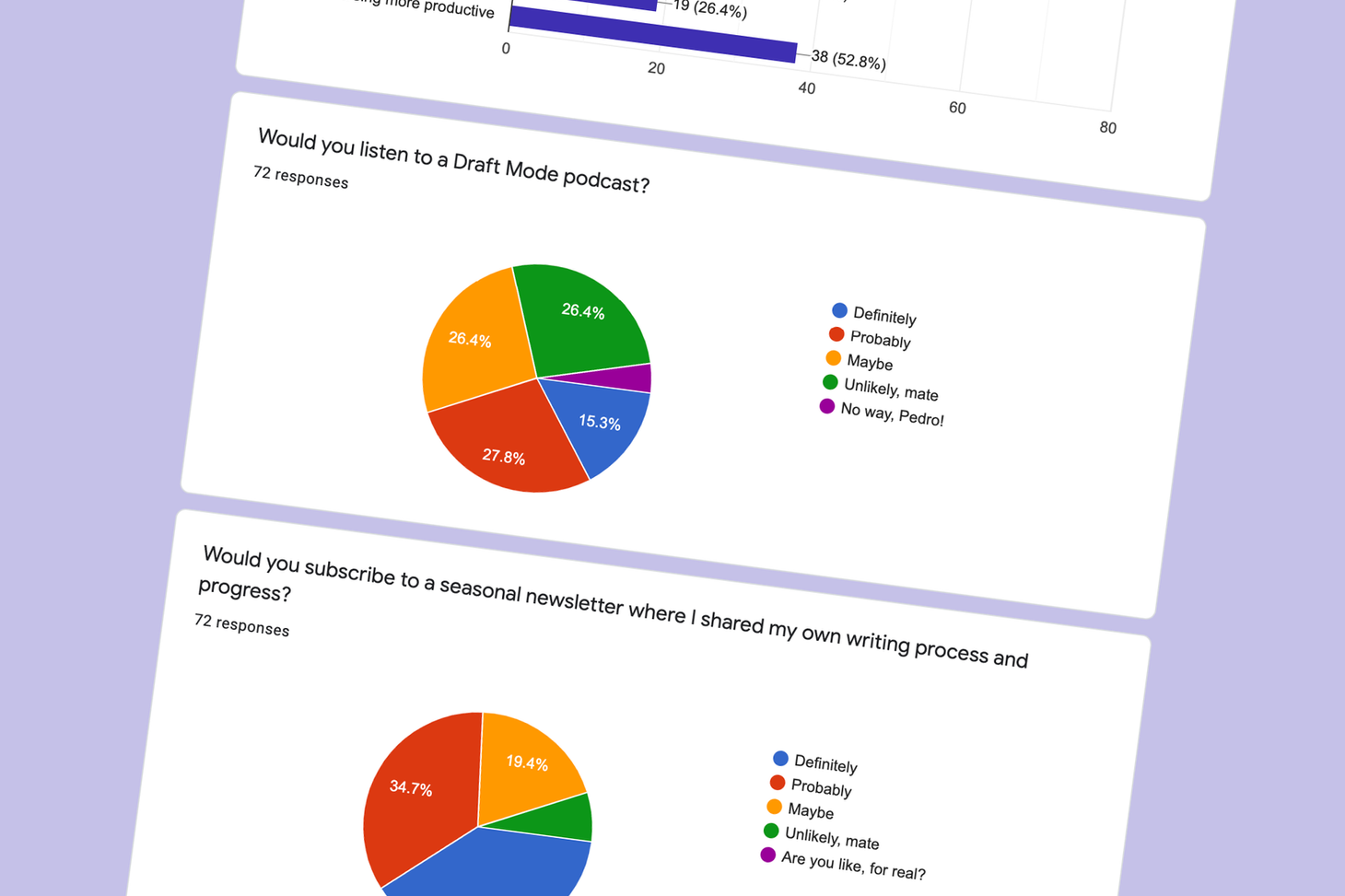 Last month, I sent a survey to subscribers of my Draft Mode newsletter. It's something I've done before and it's always been a useful way to find out what people want. It's also a handy technique for testing new ideas.
And so it proved again. Below you'll find the results of this year's survey for each question asked. The only thing I'm not sharing are the written comments attached to the final question on the idea of a membership programme. Not because there is anything to hide – the answers were super useful! – but because I forgot to ask permission to do so when I published the survey.
There are 72 responses as I write this post. It would be nice to have more, but I think that's a reasonable enough number to make some solid inferences.  
I'll share the results in the order the questions were asked.
Topics
This is the first question I always ask and this year's responses are in line with previous surveys. Subscribers want to know about the process of writing and all that goes with it – organising, planning, tools. But they are less interested in the publishing process and how to self-publish your work.
There was one option that I hadn't included before: building an audience. This is something I'm interested in myself and that I think is more important than ever for writers. Sure, writing a book is great – seriously, well done! – but you also want people to read it. You want people to care about you and your work.
Over the last 18 months, I've included more links to content about audience building. The response to this question reassures me that Draft Mode readers find it useful. So I'll keep doing it.
Podcast
I've asked about starting a new podcast before, but I phrased the question differently this year. Previously, I asked whether people would like me to create a) and interview show, or b) a short, solo show where I talk about the writing process and all the other writing-related topics you can see in question one.
Here are my thoughts.
Option a – structured, time-consuming, potentially wider appeal.
Option b – loosey goosey, easy to produce, more like a writerly cuddle than a mass-market audio extravaganza.
In the previous survey, more people said they'd prefer option a. Which did not surprise me as option a is the norm and option b is hard to imagine unless you hear it. I ended up doing neither, of course.  
Anyway, in this survey, my question was a little simpler – would you listen to a podcast? And as you can see, a fair few people would. There are lots of maybes, but that's to be expected when I don't provide any further details.
So if I make a podcast, what podcast should I make?
Well, I know that all podcasting advice says you need to pick a format and then stick with it until the end of time. And sure, consistency is a noble aim and people like to know what they're getting.
But as the person making the podcast, I need to think about what gets my gears going too. What kind of podcast would I like to publish? Given the limited time I have, what podcast could I sensibly create?
I think there's a halfway house somewhere here and I'd like to try something a little different. There are millions of writing podcasts where one person interviews another person and then another person and at least one of them is trying to sell their latest book or blog post or whatever. Which is fine.
But perhaps there is room for another way of doing things.
Seasonal newsletters
What the heck is a seasonal newsletter? I actually prefer the term 'pop-up newsletter' and I wish I'd have used that instead. But basically, it means there is an end. The newsletter starts and finishes. It is not sent indefinitely.
I have had loads of newsletter ideas over the last few years. But I have never pursued any because I've know I couldn't commit to publishing another newsletter every week, fortnight or even month.
For some reason, I never thought about those newsletters as things that have an ending. Even though some were fictional! But I've since seen other people publishing pop-up-style and it can work really well. Having that end point works really well for both sender and reader.
Here is the response to my survey question about (a fairly wooly) pop-up newsletter idea.
That's pretty positive, right?
If you already subscribe to Draft Mode, you may well know that I'm planning a week-long, home-based writing retreat at the end of November. No client work. Just several days stitched together where I solely focus on my novel-in-progress.
This feels like an opportunity to try out some pop-up newslettering. I need to make sure it won't affect my ability to, you know, write the fiction. But honestly, I'm confident the two things can work together in a way that helps me as much as anyone reading the emails I'm likely to send.
I need to move quick on this though. Keep your eyes peeled.
Directory
This is something I have been quietly working on for quite some time.
Draft Mode is where I share links to great content published by other people. Those links are what most people sign up for and enjoy. At this point, I hope I'm pretty good at finding and sharing stuff.
Most previous editions of Draft Mode can be found here on my website and I'm slowly adding all the really old emails to the archive. But wouldn't it be great if there was one single directory of all the links I share with tags and key quotes and that kind of thing? A searchable treasure trove for writers.
I think it would be really useful – for me as much as anyone else! But I thought I'd just check via a question in the survey.  
That's a conclusive response!
I've started work on the directory and plan to use the excellent Airtable, which I can embed here on my website. I may launch it before it's fully complete, or I may hang on until every last link is in there.  
Will everyone be able to access the directory? I'm not sure yet.
I might make it one of the perks of a membership programme (see question below). Or I could make it just for Draft Mode subscribers, which is easy to do with Ghost. That way it would be free, but you'd need to subscribe and sign in to the site to gain access.
So – lots to think about here! But this seems very doable. And valuable.
Membership programme
Finally, I asked about my grand idea to set up a membership programme.
You might not be surprised to hear that this was the question I wanted feedback on the most. I've been dropping hints and sharing links to subscription-related content for a while. But am I barking up the wrong tree?
Here is the response to my question on memberships.