You are now in Draft Mode
A new name and home for the newsletter, writing a bestseller, how book deals work and fancy mechanical keyboards.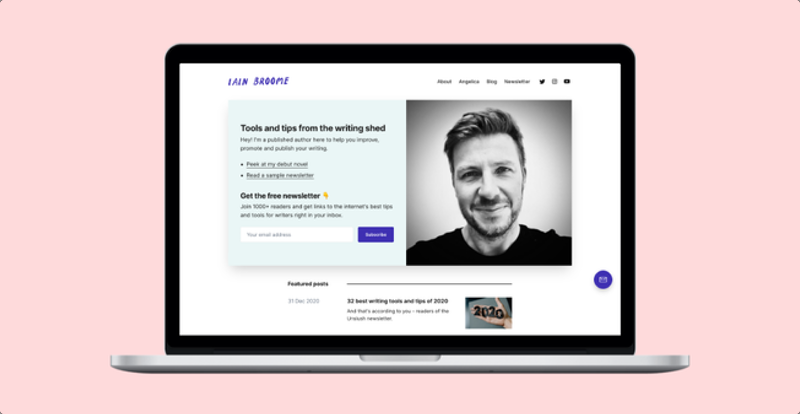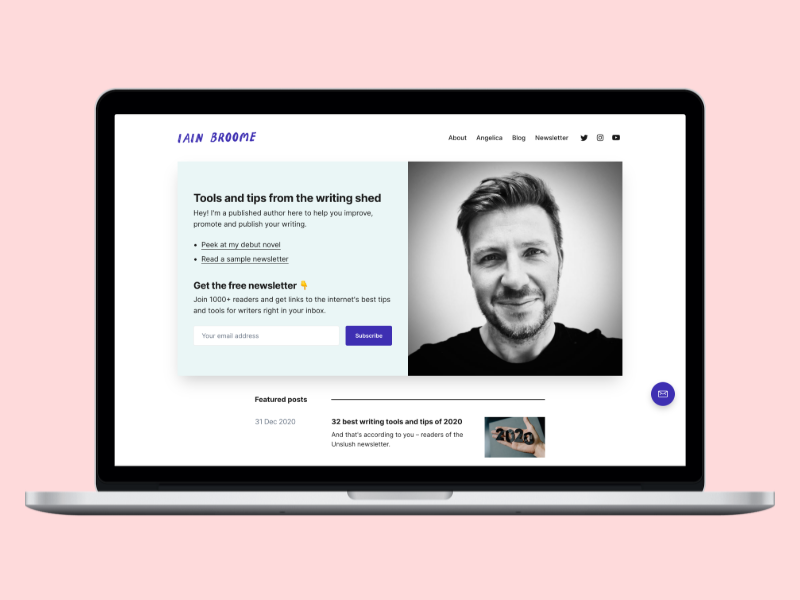 Hello there
Just me, Iain Broome, sending you my first newsletter from its new home, which also happens to be my own actual website.
Long-time subscribers, we have travelled the world of email distribution platforms, from Mailchimp, Goodbits and Revue to more recently, Substack. And now here we are, via the power of Ghost, where everything is sent from and ultimately lives in the same place.
To those of you who have signed up in the last few weeks – hello and welcome!
Some housekeeping before I get on to your usual links and goodies.
Name change
Unslush is no more. You are now subscribed to and reading – Draft Mode.
Shall I tell you why I've changed the name again? Does anyone really care? Do words even matter anymore?
Well, I liked Unslush because it was like hey, there's loads of stuff on the internet and I've picked out the best bits for you. Like pulling diamond debut novels out of the slush pile. Do you know what a slush pile is? No – okay then. Well, it's where literary agents have a pile of manuscripts... okay, you see the problem. It takes some explaining.
I like Draft Mode better. It's more clearly about the writing process and, you know, being a writer. It also fits with my more streamlined objective for the newsletter (and the rest of my website): to help you improve, publish and promote your writing. And it's a good description of where I am right now with my own work, of course. I'm very much in draft mode.
Your profile
So yes, the newsletter is now on Ghost, which treats all subscribers as members.
You're either a free member (everyone right now), which means you get the free newsletter (like you always have). Or you are a paid member, a feature I have not yet turned on but plan to some time in the not-too-distant future.
As a member, you have your own private profile on the site. It means you can log in with your email address (no password required) and do exciting things like add your actual name to your profile. You don't have to do that. But you could.
More excitingly, it means I can publish exclusive pages and brilliant content just for you. There's nothing ready yet. Which is anticlimactic, I know. But there will be soon.
Archives
Everything that was previously on Substack is now on iainbroome.com – all new emails will appear in the newsletter archive. That said, they will also appear on the homepage too, alongside anything else I post to the site. It makes sense when you see it.
If you're new to me and the newsletter by the way, those archives are a bit of a treasure trove of literary goodies for writers and creative folk. Go dive in like Scrooge McDuck.
Too long, still reading?
This is a lot of admin for one email. I'm still working on lots of stuff that I think you will like. But let me stop for now after saying that there is a lovely roadmap you can look at while I'm faffing about. I think it's gonna be great. I'll share more next time.
With that, thank you so much for subscribing and reading. I really appreciate it. And I would genuinely love you to reply and tell me what you're currently working on. Are you getting ready for some big exciting launch? Looking for a literary agent? Or are you in draft mode too?
On to your usual programming!
---
Links of the week
Every issue I collect and share the best advice, apps and other shenanigans that I find on my internet travels. Find something useful? Subscribe for free.
How to write an award-winning bestselling first novel
This Ted Talk by author, Nathan Filer is an absolute gem and a great way to reboot the newsletter. His Costa-winning novel, The Shock of the Fall came out just after my own debut and as we share an agent, I got to know him a bit. He's lovely. And it comes across in this warm talk that's full of practical advice that I'm sure you'll find useful.
---
This blog post by author, Phoebe Morgan is from 2017 but – guess what! – nothing has changed about the way a book deal goes down in the meantime. If you're new to the publishing world and want to get a feel for what it's like to go through the process, this is a great place to start.
---
List of authors who help authors
There are authors who keep themselves to themselves and some who aren't even on Twitter (imagine!). But there is a whole bunch of us who actually quite like to help other writers and pass on our experience. Sam Missingham from The Empowered Author has put together an ace list.
---
3 strategies to build a profitable author platform without an audience
And they are... work with influencers, work with other authors and grow your email list. The thing I like about this post on the ConvertKit blog is that it actually gives you some ideas that you can then put into action. And if you read the word influencer and think, 'Pah! there is no way I would contemplate such buffoonery!' then I personally think you're missing a trick.
---
EmailOctopus – email marketing made easy
Building your own author email newsletter or mailing list? For years, I used and recommended Mailchimp, but it's so bloated now I've given up on it. Instead, I'm using (and recommending) EmailOctopus, which does everything you need and nothing more, plus it's super easy to get started. I'm going to use it for this secret thing I'm planning.
---
A Writer's Guide To Mechanical Keyboards
You might remember that I bought a very attractive mechanical keyboard earlier this year. I can tell you that, despite many typos in the early weeks, my overall personality has improved significantly. Yours can too via the help of this article I present to you now.
---
Tweets of the week
Tweets are but muck between the toes of a beached sea monster. But some of them are quite good. You can follow @iainbroome and @DraftModeHQ on Twitter.
---
First-time reader?
Draft Mode is an email newsletter written and published by Iain Broome, author of the novel A is for Angelica and real-life freelance writer. Join 1000+ other fine people and subscribe for free to get weekly tips and tools that helps you improve, publish and promote your writing.
Join 1600+ super subscribers
I send two regular newsletters. Draft Mode (biweekly) is about the writing process, writing resources, creativity and being an author. Minifictions (monthly) features five original pieces of flash fiction.
Sign up once. Choose your newsletters.
Subscribe now