Comments are on
Audio-editing and transcription software, how to submit to literary agents, editing your novel, and subscription marketing for authors.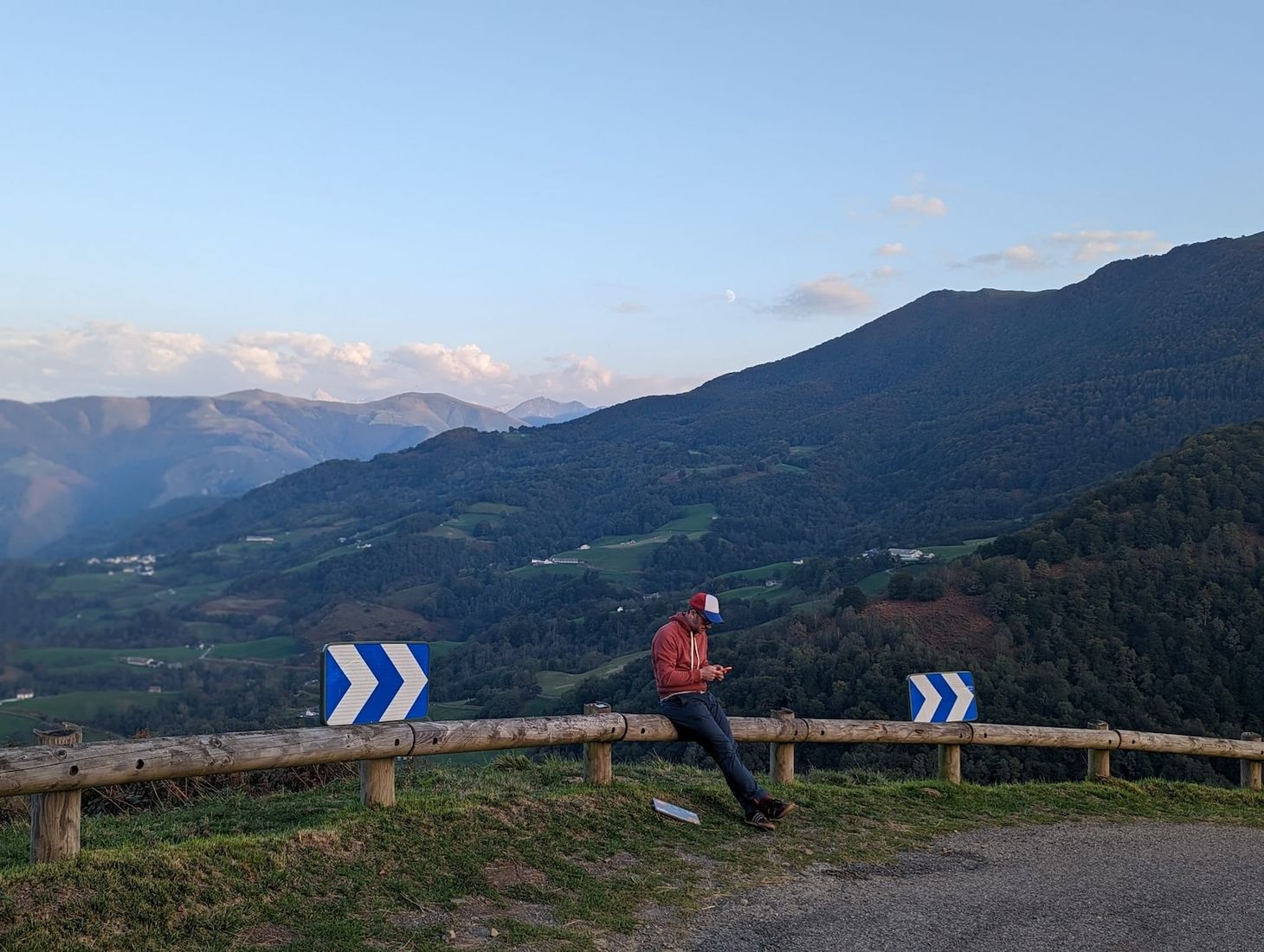 Welcome to another edition of the Draft Mode newsletter sent to you this week from atop the rolling Mendips by yes, correct, me, Iain Broome.
It's been great to see so many of you using Draft Mode Bookmarks. If you didn't read or get my last email, Bookmarks is a big, searchable directory of resources for writers. It's completely free, so head over and start exploring right away.
Also, thank you to those of you have emailed to say nice things about Bookmarks. If you fancy saying nice things out loud on Twitter, I'll happily add your excellent tweet to the feedback section on the Bookmarks page. I will also send free, imaginary biscuits your way too.
Speaking of saying nice things, you can now comment on the website version of these Draft Mode emails. Just like the good old days! You can find out how it works via some of the sentences below.
Enjoy the links that follow!
Iain
PS Image above is from towards the end of my Pyrenees podcasting adventure. By this point, I was so used to working in a moving car that any time we stopped, I'd hop out, try and connect to my phone's rubbish hotspot and edit on the side of the road. Usually somewhere high up.
---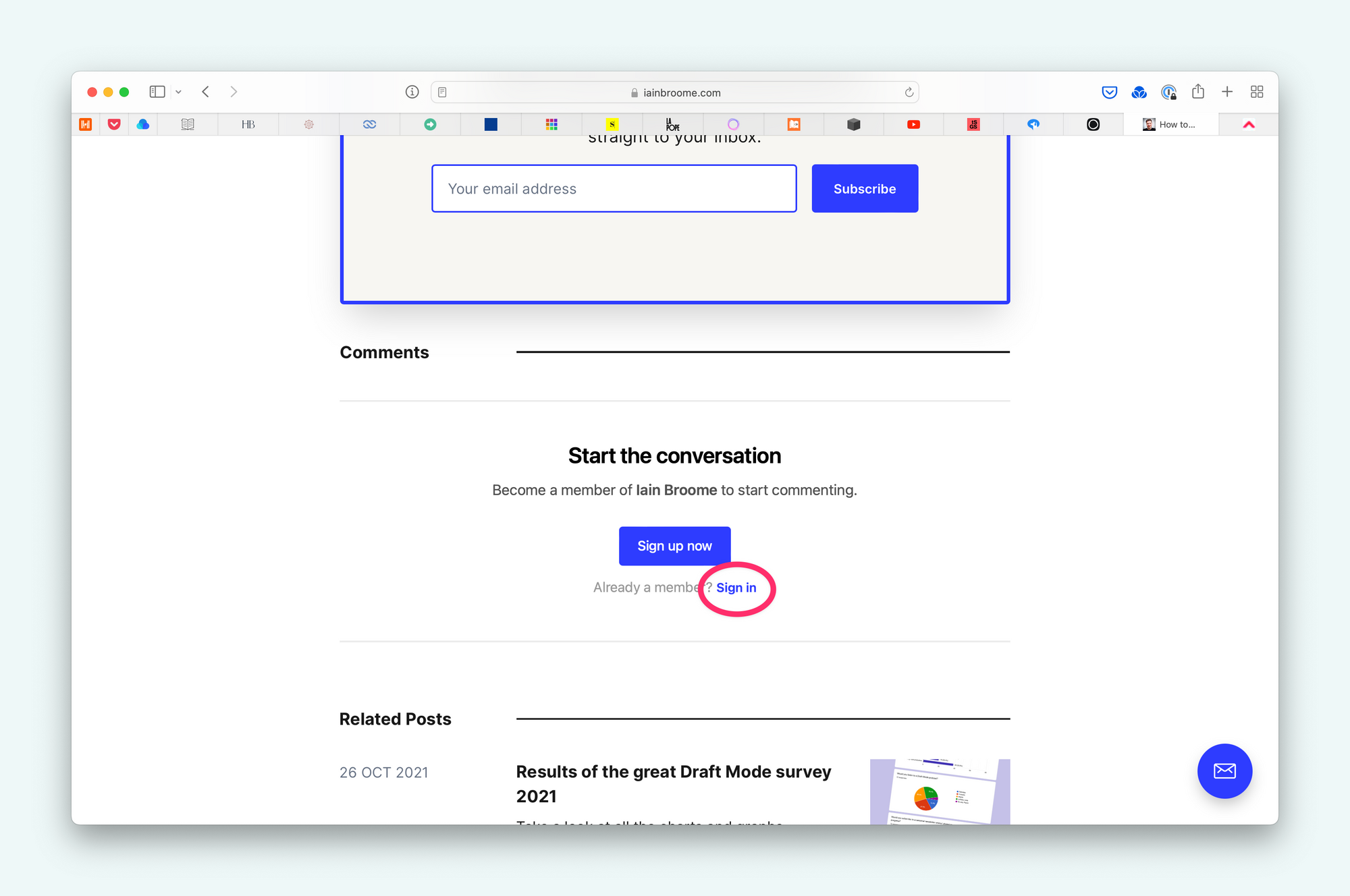 Share your thoughts!
Back when I was blogging regularly, this site had a fairly thriving comments section. Each post would get up to 50 or so comments and I'd be off leaving comments on other blogs too.
That sort of thing became a little unfashionable as conversations moved to Twitter and Facebook groups. I'd say that's probably still the case, though we now have community platforms like Discord and Slack too.
Anyway, the good folks at Ghost – the excellent website and newsletter platform I use – have now added comments functionality. And that means you can leave your brilliant thoughts on the web version of these Draft Mode emails.
There is one thing to note – comments are only for subcribers. You have to head to the page, sign in to your account and pow... you can share all of your exciting thoughts with me and the rest of the crew.
Example comments might include:
your favourite links from the email
experiences from your own writing
correcting my stupid typos.
I'd love to get some chit-chat going, so do get stuck in. I'll always reply. Just give me a shout if you have any problems.

---
Links of the week
Every issue I collect and share the best advice, apps and other shenanigans that I find on my internet travels. Find something useful? Subscribe for free.
Descript – All-in-one audio/video editing, as easy as a doc
I linked to Descript before and told you it looked like it could be a brilliant way to edit podcasts, interviews and other audio.
Having used Descript to create seven interviews and three documentaries in one week while documenting the Trans Pyrenees ultra-cycling race, I can assure you that my initial suspicions were correct.
Sure, there is a learning curve. But once you get the basics, it's a really fantastic tool. And you don't need to use it just for editing podcasts. It's also a fab way to quickly transcribe and organise any audio. Reading your writing out loud. Reviewing book research. Anything at all.
Watch the video above. It sounds too good to be true. But it really works.
---
Pitch, Please: The Art of Submission
This post on how to submit to literary agents is a treasure trove of useful information from a) an actual editor in Hannah Boursnell, and b) an actual literary agent in Jemima Forrester. If you have any questions about querying at all, this is a fantastic place to start finding answers.
---
An editor's guide to editing your novel
Again, if you're going to get advice on how to edit your novel, you might as well read a blog post by someone who does it for a living. These 10 tips from Jennifer Kerslake come from the Curtis Brown Creative blog, where you'll find lots of other useful articles and the like.
---
Become a person who Actually Does Things
Very little practical advice in this post by Neel Nanda, but something about it touched a nerve. Stuff like this:
Notice when you think "I should get round to this some time" or "I've always wanted to learn juggling" and actually do it. Notice when something is inefficient, notice the thing nobody is doing, and be the person who does it!
Like I say, not that helpful. But there is a kernel of truth in there.
It's the word 'notice'. We are all guilty sometiemes of not noticing – of coasting, to put it another way. Being aware when it happens and immediately doing something about it seems like quite a good, if somewhat intangible, notion.
---
Subscription Marketing for Authors
This post on the blog of always-ace Jane Friedman is from 2020 but it applies today. As we all know, for most people, there is little to no money in being an author. A sexy hobby, I've previously called it.
But with hard work and some creative thinking, you can build a business around your books. And if regular, reliable income is your thing, then developing a subscription or membership programme is an excellent way to go.
---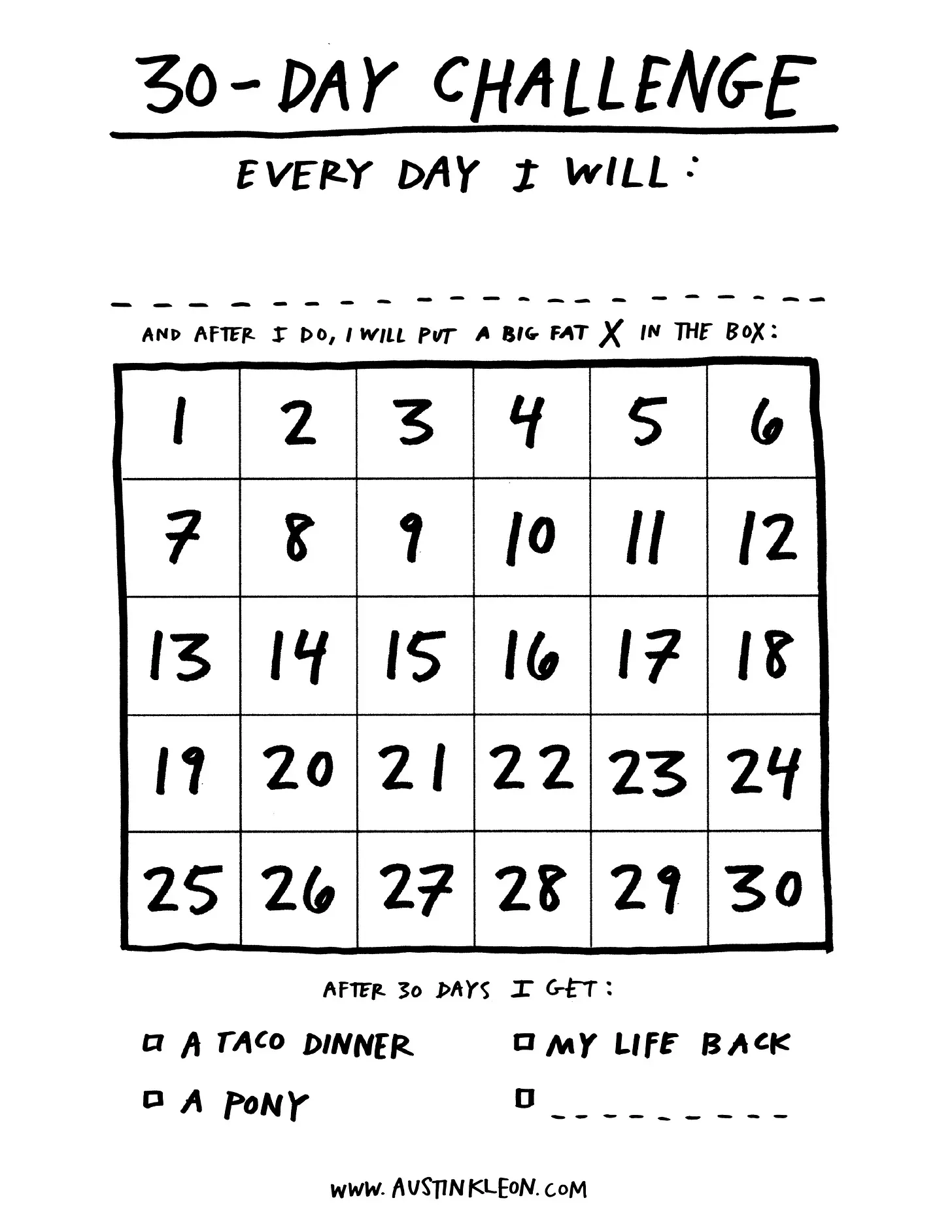 Austin Kleon's 30-day challenge
I enjoyed this in Austin Kleon's Tuesday version of his newsletter. It's something he talks about in Steal Like An Artist too. Basically, try and make something small every day and see what happens. So, I'm going to write a short story – like, very short – every day throughout November.
There is a good chance that some of my little fictions will end up in a brand new newsletter I'm hoping to launch in the new year. You can actually sign in to your account and subscribe to it now, if you want.
---
Tweet of the week
So many bad tweets. This is a good one. Follow @iainbroome on Twitter or @DraftModeHQ for newsletter notifications.
---
First-time reader?
Draft Mode is a weekly newsletter by Iain Broome, author of the novel, A is for Angelica. Join 1500+ subscribers and start receiving tools and tips that help you improve, publish and promote your writing.
Join 1600+ super subscribers
I send two regular newsletters. Draft Mode (biweekly) is about the writing process, writing resources, creativity and being an author. Minifictions (monthly) features five original pieces of flash fiction.
Sign up once. Choose your newsletters.
Subscribe now