Three writing apps I use every day
For work, notes and fiction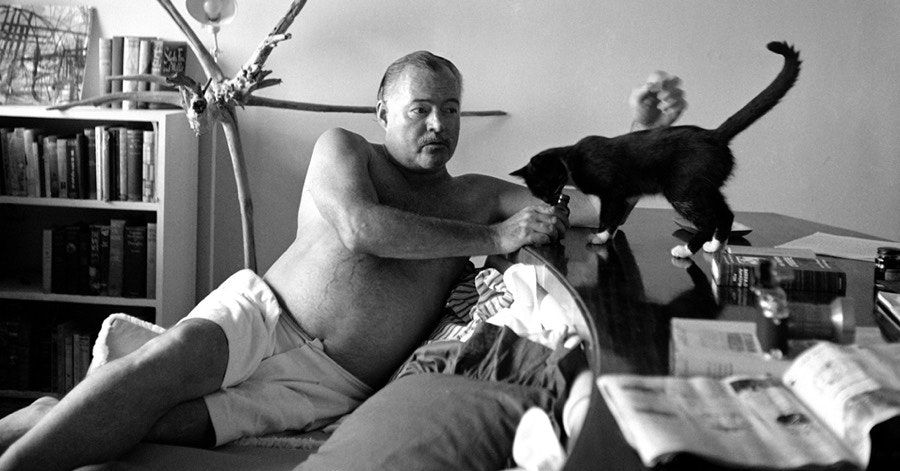 There are so many writing apps these days. It can be hard to know where to start.
Apart from really, you just need to pick one and write. If you have a blank page and something to tippy-type with, you're pretty much golden. I mean come on – just write. Right? Sorry.
Being some sort of techno-writer-twit, I've made it my recent life's work to download and try every writing app I can get my hands on. And I don't for it for me. I do it for you. So I can make lists like this.
Some writing apps are great. Some are terrible. But here are the three that I use on a daily basis to get things done. Why not one app to rule them all? Because I find it very useful to compartmentalise three things: work, notes, fiction.
---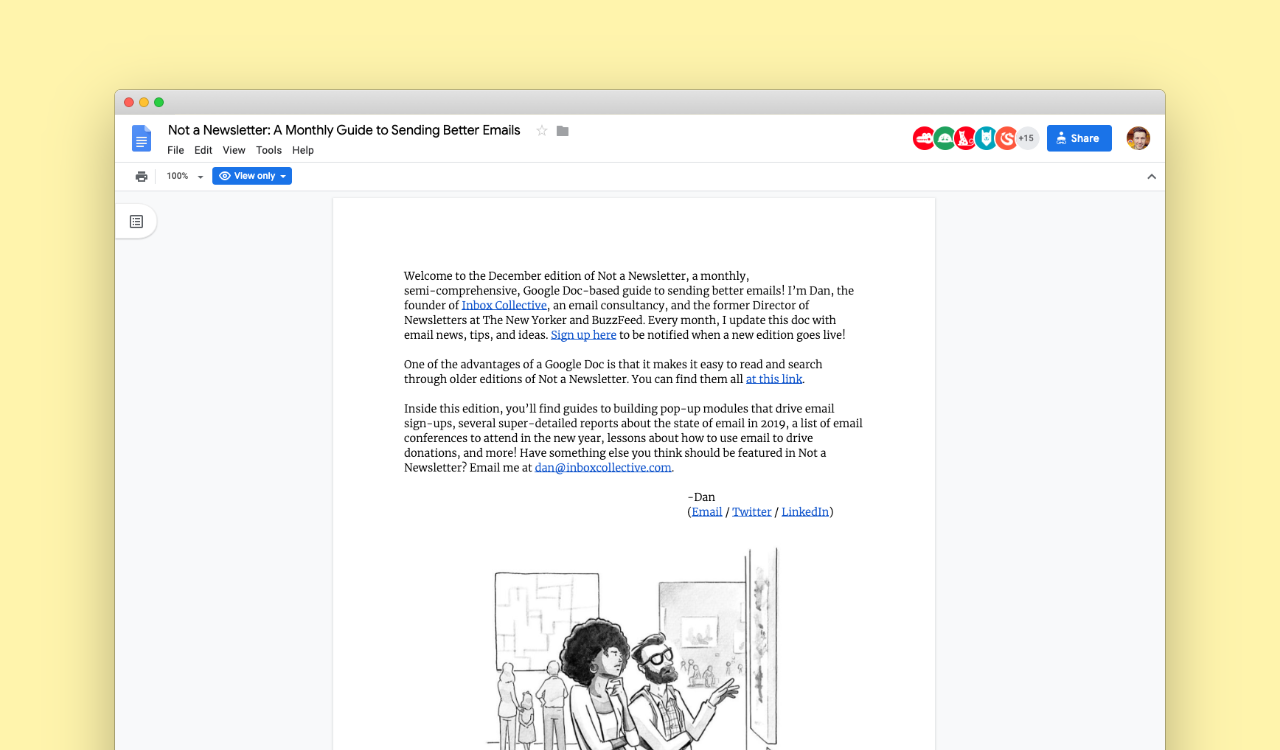 1. Google Docs
Since going freelance, I've been both amazed and somewhat fortunate to find that almost all of my clients use Google Docs.
Apparently some folk folk think Docs is too limited. Well, unless you're some sort of macro master or totally into labelling everything you own, I don't think it's limited at all.
There are three reasons – all the threes this week – why I use Google Docs for almost all of my copywriting and client work.
It's easy to share with other people. As a freelance writer, I will typically work remotely, which means it's important to be able to give and receive feedback inside a document. I've not yet found an app better than Google Docs for this.
It's simple to use. For many, many years the only writing app anyone used was Microsoft Word. And Word is fine, but it is also bloated and packed with bells and whistles that most of us will never ring or toot upon. Google Docs launched streamlined and has stayed that way.
Keyboard shortcuts = writing ninja. As with any app, once you learn the keyboard shortcuts in Google Docs and they become second nature, you can take any document and have it formatted all nice in no time at all. Headings, comments, outline. Super quick.
For ages, one of the big problems I had with Google Docs was not being able to quickly turn a document into HTML or Markdown. I'd work with a client on a blog post, for example, then have to practically rebuild it in WordPress.
Then I discovered this Google Docs plugin and did an eternal happy dance.
---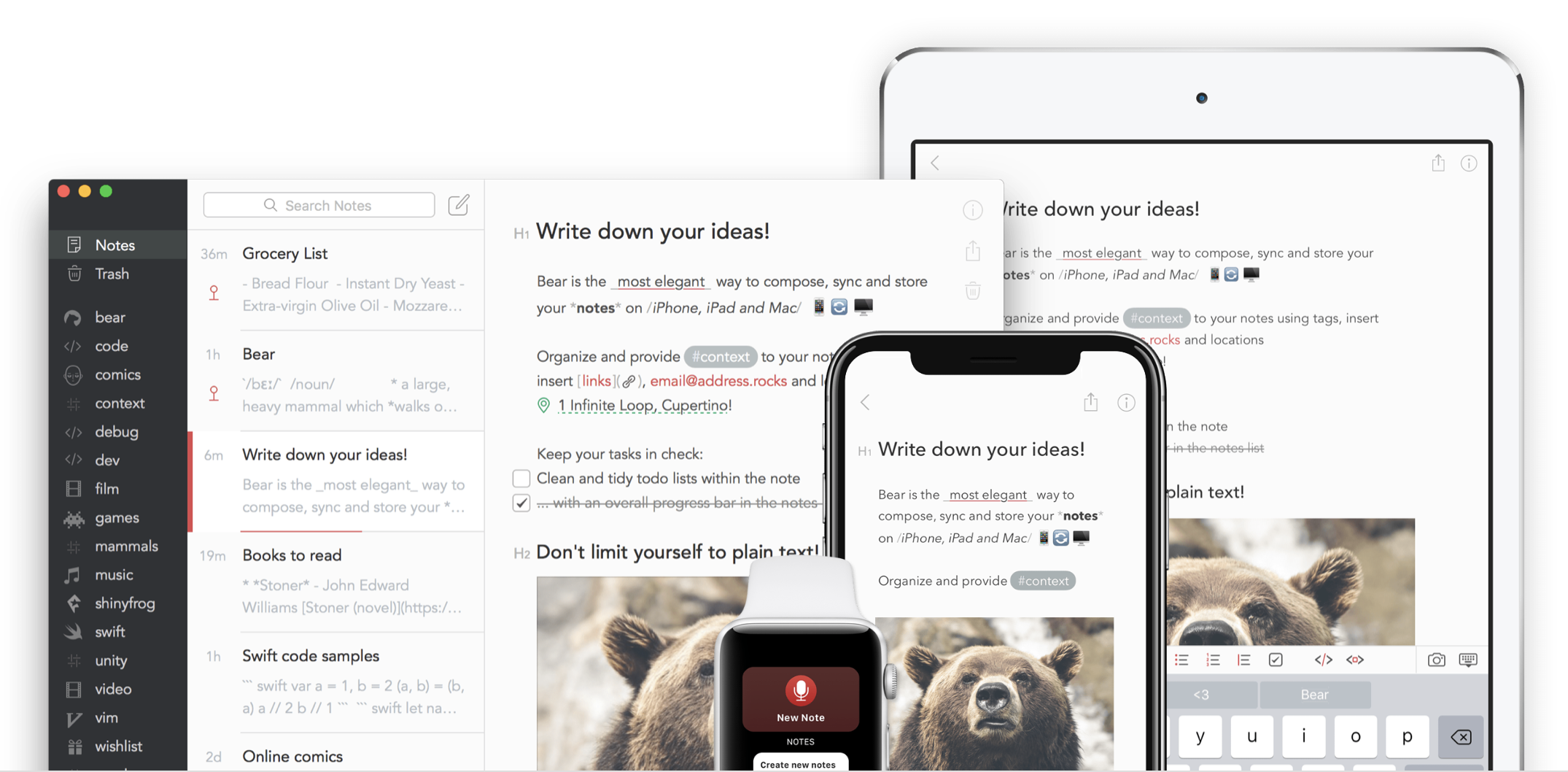 2. Bear
It took me a while to get used to it, but Bear is now where I write all of my quick notes, reference material and the occasional blog post. Basically, it's where all the bits and pieces go. Project ideas. HEX codes for clients. Occasional shopping lists.
If something needs writing and I want to a) jot it down quickly, b) keep it to myself, and c) find it again easily, then into Bear it goes.
Have another three reasons:
Handy tagging system. For me, it's exactly the right balance for keeping notes organised. I don't need a full folder structure for my quick scribbles and things to remember. But I do need to find them again. Tags allow me to do just that without feeling like there's some unspoken system I need to adhere to.
Export to Markdown and HTML. Again, for me, any notes app needs to export to Markdown and HTML. Bear does both and allows me to write things like client web copy and podcast show notes that I can easily publish to the web. There are apps that do this better (like Byword) but all features combined it's Bear I like best.
Super fast and reliable sync. Not features, but two very important things to look out for if you want to add notes quickly. Bear opens in a flash, I've never had it crash on me, and the sync between devices almost never fails. And even when it does fail, it gives you a copy of the two conflicting versions and makes it clear what's happened.
There was once a time when barely a month would pass without the launch of a new note taking app for iOS. I've just about tried them all and Bear is the one that I've stuck with and used the longest. Also – it looks quite nice.
---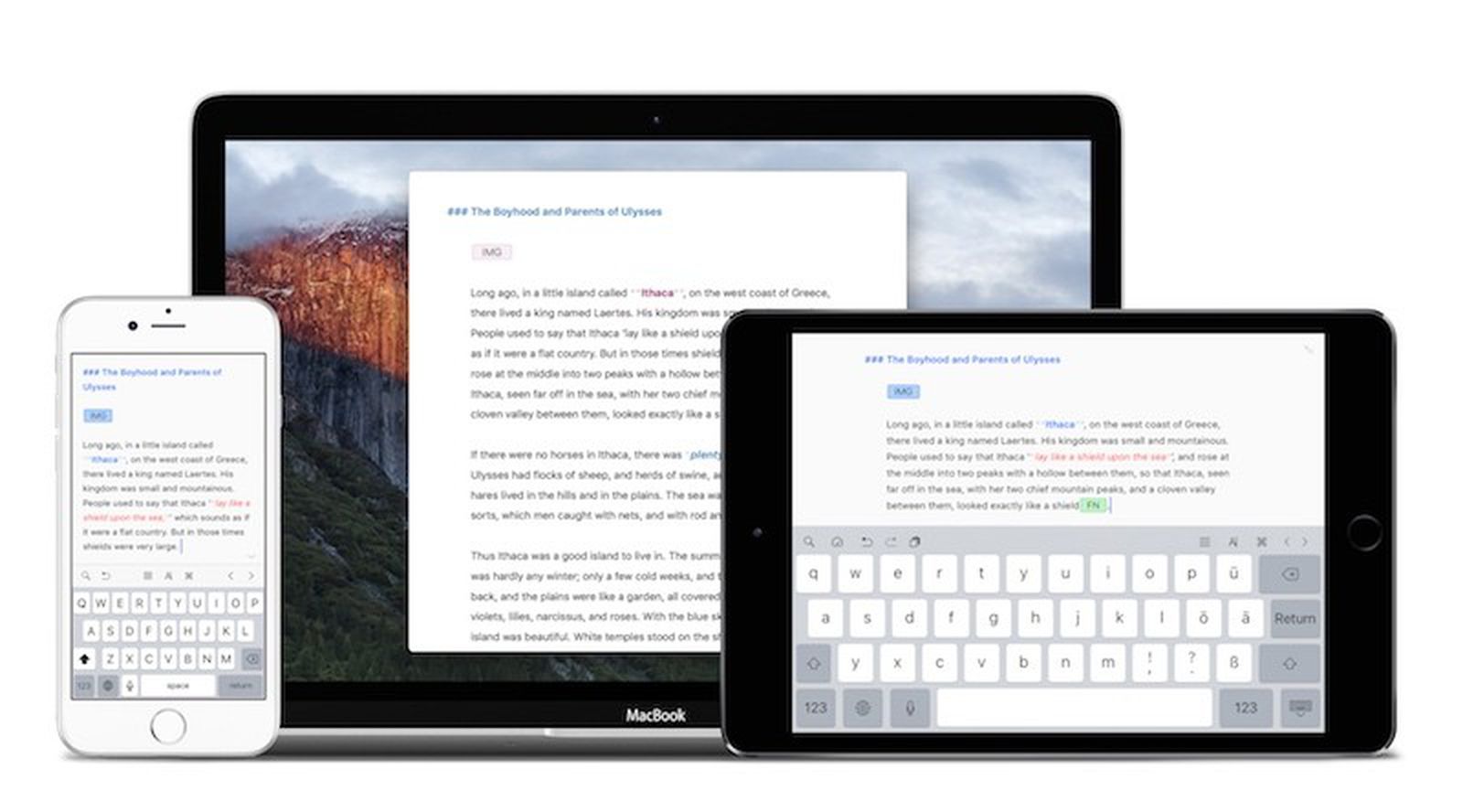 3. Ulysses
Last but not least, we have the wonderful Ulysses.
This is currently where I write my fiction, which means I'm perhaps being a little liberal with my use of the phrase 'every day' in the title. But it's an incredible writing app that I can heartily recommend to just about anyone.
Here are three reasons why.
Everything in its right place. This is the big one for me. If you've ever written a full-length book, you'll know how many drafts it takes to get to the end. Then you have to work with an agent. And then an editor. It gets pretty messy. With Ulysses, you can organise all of your documents or 'texts' inside the app. It's absolutely bloody marvellous.
Word counts, notes and attachments. Same goes for all your research and the admin side of writing a book. Rather than keep all that stuff in a separate folder somewhere on your computer, you can attach files and notes to specific texts within Ulysses. You can also add a word count target to a text and watch it change colour as you get ever nearer to that arbitrary magic number.
Perfect sync between devices. All of this would be for naught if it didn't sync properly. But it does. So thank goodness. We've all read horror stories of authors losing entire books to bad file management and dastardly sync issues. I've had no such problems with Ulysses – its iCloud sync has been rock solid for me.
To be honest, if you had to pick one app to do all the stuff I've listed here, you could choose Ulysses and be a very happy writer. But if you're like me and prefer to keep things a little more separate, or if you need to collaborate on documents, then I can heartily recommend this three-app setup.
What about you?
Got any exciting app recommendations or special ways of working that I might like to know about? Feel free to hit reply and let me know or share it with the world and tag me in on Twitter.
---
How to be helpful
If you enjoy this newsletter, there are three things you can do to help.
Share it with someone else.
Click/tap the little ❤️ icon there at the bottom.
---
Links of the week
Every issue I collect and share the best advice, apps and other shenanigans that I find on my internet travels. Find something useful? Subscribe for free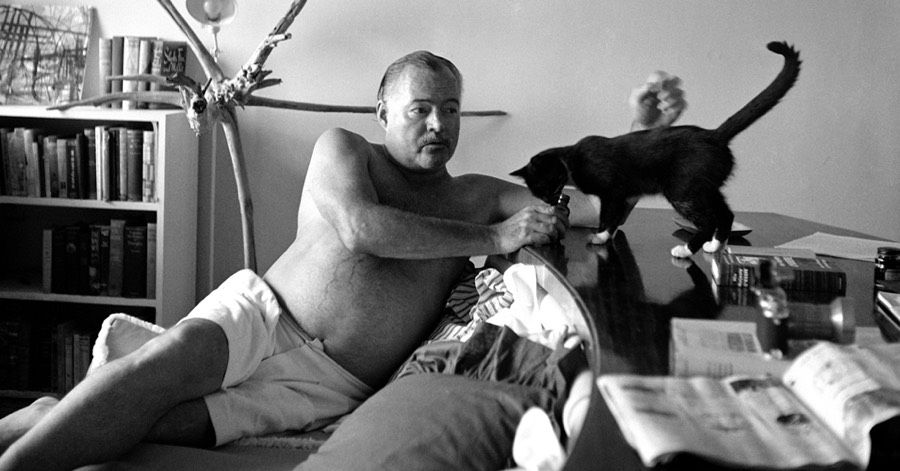 Literary Pets: The Cats, Dogs, and Birds Famous Authors Loved
You could say that I'm sharing this article to add variety to what has turned out to be a very app-focused edition of the newsletter. You might also argue that I have a very love/hate relationship with my own cat and need some way to find a way forward for the both of us. But really, if I am completely honest, any excuse to post that photo of Ernest Hemingway who appears to have been very feline friendly.
---
Journalistic – A simple, yet powerful micro journaling app
Another writing app! This one is designed entirely with journalling in mind. It looks good and has some interesting ideas, though I don't know if it's the sort of thing you'd want to write anything lengthy on. That's not the point, I guess.
---
As you know, I like my writing advice to be practical. None of this inspiration nonsense. Tell me how to writer betterer or don't botherer.
This list of 10 short tips by author Janet Fitch is a belter.
This is my favourite bit:
What is a scene? a) A scene starts and ends in one place at one time (the Aristotelian unities of time and place–this stuff goes waaaayyyy back). b) A scene starts in one place emotionally and ends in another place emotionally. Starts angry, ends embarrassed. Starts lovestruck, ends disgusted. c) Something happens in a scene, whereby the character cannot go back to the way things were before. Make sure to finish a scene before you go on to the next. Make something happen.
That last sentence reminds of the John August piece that I always link to. The idea of that when writing a scene you should always ask yourself: What needs to happen? It's hardly a revolutionary notion, but when you're in the thick of it, it's very easy to forget that stories are made up of actual events.
---
I've mentioned Novlr a few times in this newsletter. It's a cloud-based app designed specifically for writing a novel (or any book to be honest). I've never used it for any length of time, but I do like the idea and I think it could be perfect for some people. Anyway – they've just launched version 3.0. See what you think.
---
You know all those irritating little design elements and interactions where websites and apps seem to be personally attacking you with their foolishness? Someone made a website to collect them all in one place. Here's a book-related example.
---
Goodies galore in Kevan Lee's best of 2019
Kevan is Head of Marketing at the excellent Buffer (co-founded by a Sheffield lad, I might add) and I've been subscribed to his newsletter for a while. In this blog post, he lists some of his favourite books, podcasts, products and more of 2019. I found myself nodding along with some items and quickly bookmarking others. In other news, Kevan has recently switched his newsletter to Substack.
---
After three years of running a freelance business, I am starting to feel like I've got stuff kind of… everywhere. And so I've been experimenting with Notion (previously linked to in this newsletter) as a place to keep all my bits and pieces organised. Enough people have told me how brilliant it is for me to stick with it, but there is definitely a learning curve. I found this article by Matt Ragland very handy.
---
FutureMe: Write a Letter to your Future Self
Well this is just great. Such a simple idea. Just head to the site, write a letter to your future self and choose how long into the future you want to have it sent to your inbox. Or maybe someone else's inbox? Since finding this I've spent quite some time thinking about all the different ways you could use this to tell stories. (You could also use Mailchimp but booo boring etc.)
---
Tweets of the week
Tweets are but old balls in a tennis match for chumps. But some of them are quite good. You can follow @iainbroome and @unslush on Twitter.
---
First-time reader?
If you are new to me and this newsletter, please feel free to join hundreds of other fine folk and subscribe to get future emails right in your inbox. You can read a short bio on my website, where you can also find out more about my debut novel.
Join 1600+ super subscribers
I send two regular newsletters. Draft Mode (biweekly) is about the writing process, writing resources, creativity and being an author. Minifictions (monthly) features five original pieces of flash fiction.
Sign up once. Choose your newsletters.
Subscribe now