14 alternatives to writing
For when 'just write' is just wrong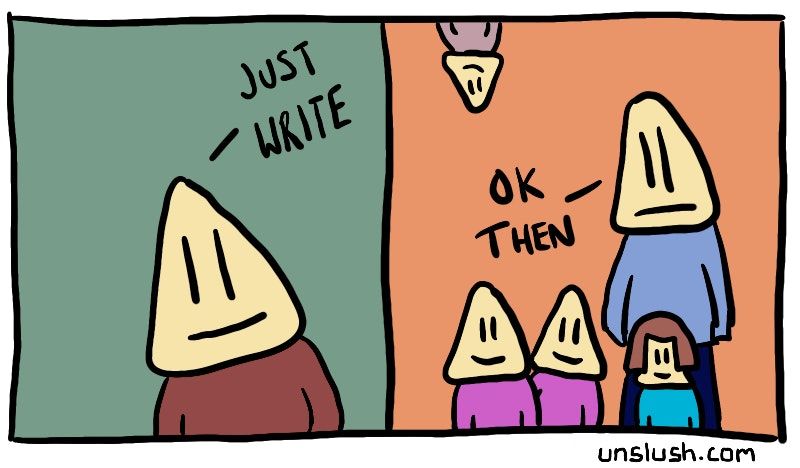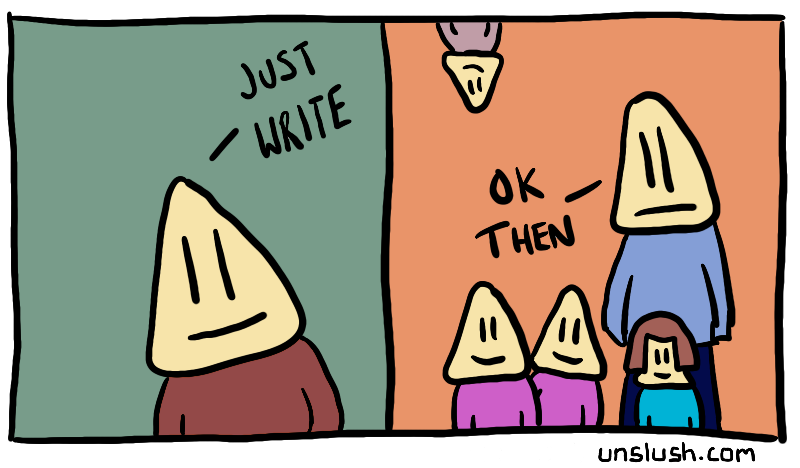 I recently did absolutely no research and came to the conclusion that 95% of all writing advice is people telling you to just write.
This is something I wrote about in 2009 which was – you're not going to believe this –  10 years ago. People got a bit cross in the comments, but I was mainly frustrated at this idea that unless you are writing every single day, somehow you are not as much of a writer as someone who is writing daily. Even if they're shit at it.
Anyway, as someone who is about to have their fourth child in seven years while running a freelance business and screaming hopelessly into the void at the state of absolutely everything in the world, I've been thinking about this just write thing again.
Because essentially it's true. You should just write. On the whole, writing something is better than writing nothing. I argued against that in 2009, but I agree with it now.
However, it's far easier said than done and there are many other elements to the writing process that don't involve actual typing. Planning is helpful. Thinking is good. Looking after yourself is very important.
So with that in mind, if you're not currently in a position to sit behind a desk for hours every day, here is a list of alternatives to writing.
Read through whatever you're working on
Edit whatever you're working on
Grab your phone and research whatever you're working on
Find a pen and spend 10 minutes on a plan for when you can write
Speak to a friend or family member about your writing
Share some of your writing with a real-life writing pal
Share some of your writing on social media or your website or your newsletter
Read a book about writing, such as Release The Bats by DBC Pierre
Read a book about absolutely anything at all
Reflect fondly on a wonderful sentence you once wrote
Have a bath, see which toe fits best in the tap-holes, and ponder on your writing
Go for a run or cycle and come up with a brilliant new idea
Draw a map of your main setting in whatever you're working on
Draw and annotate your characters
I know that none of this is going to help you meet the daily word count that you arbitrarily imposed upon yourself. And I appreciate that – at some point – we all have to buckle down and just write if we're to make any progress.
But please don't do yourself in. Life happens. Forgive yourself.
---
Be my best friend
Sure, the internet is full of awfulness, nonsense and bad writing advice. But among the Earth-ending clustercack there are golden nuggets of bookish brilliance and productivity apps that promise the world. You could go looking for those yourself. No judgement here. But why not save yourself the time and effort? Subscribe to Unslush, let the good stuff come to you directly and become my best friend in the process.
---
I got carried away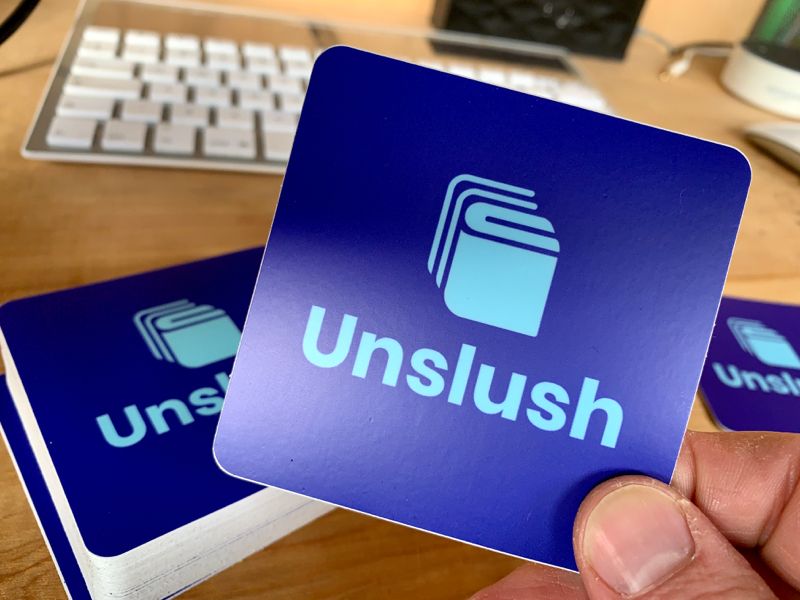 So just when I relaunched the newsletter a couple of weeks ago, I happened to get one of the occasional offers from Sticker Mule via email.
People were subscribing left, right and centre. It was all very exciting.
So I bought a load of Unslush stickers that – I have to say – look an absolute treat on a laptop. I'm not entirely sure what to do with them yet. I'll let you know when I figure something out.
In the meantime, remember last week when I asked you to hit the little heart shape at the bottom of the email to see if we could break the top five on Substack's leaderboard. Well guess what? We did it!
It's neither big nor clever of me to ask you to like me (please like me) every week, so let's go for top three this time around and then call the whole thing off. Just assume that when you receive an email from me in future the next thing I want you to do is hit the little heart thingy. Now on to the content.
---
Links of the week
Every issue I collect and share the best advice, apps and other shenanigans that I find on my internet travels. If you like these, you'll like  The Daily Unslush too.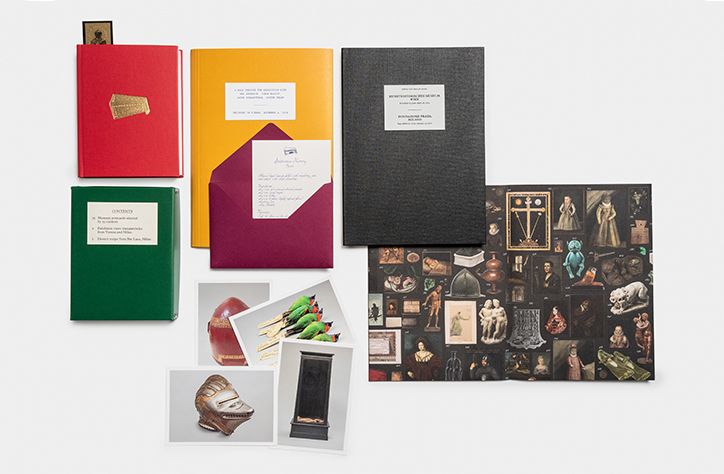 A book chronicling tiny, bizarre treasures from Wes Anderson and Juman Malouf
This seems very much a case of doing something because why the hell not if you're Wes Anderson and Juman Malouf. But there is something about it that I really like. Stories in objects and how they fit together. Colours. Shapes. Materials. Makes for pretty photos too. See also: Wes Anderson's colour palettes.
---
Lydia Davis: Ten of My Recommendations for Good Writing Habits
One of my problems with the just write mantra is its lack of usefulness. On the other hand, this copy and paste job that Lit Hub has done on an essay in Lydia Davis' upcoming Essays One is full of practical, actual things that you can do.
She talks a lot about taking notes:
Important: Take notes at the time, because you will forget so much, if not everything, later—you will inevitably either forget the moment entirely, or forget a part of it, so that won't be as complete or interesting when you do note it down.
I am terrible at taking notes. It feels pointless until the very moment I want to remember some brilliant idea I had while running and then… it's gone. And so now I just have to decide which beautiful notebook I want to use if I am to take on Davis' advice. Notebooks are very important.
---
The 20 Best Works of Nonfiction of the Decade
This is a list and we know that people like lists, so I'm sharing it with you now. The books are a bit US-focused for a Brit like me, but there is still plenty of reading here that takes my fancy. Do they take your fancy too?
---
Trace | Remove background from images fast
Are you, like me, utterly rubbish at cropping the background out of images? Well now you need never waste your life doing that again, because Trace from the aforementioned Sticker Mule does it all for you. Hat tip also to the less flashy but also great remove.bg.
---
Much of this piece is standard productivity fare, but I do think there is something in the idea of putting an hour to one side each day for… whatever. My problem is that I run my own business, so there is always a to do list with items that need ticking off. It's hard to ignore it. But this does sound tempting:
All I know is that I get rid of my to-do list, I tuck the iPhone safely away, and if there is a door, I close it. Whether it's an hour of Choose_your_own_adventure Wikipedia research, an intense writing session, or endlessly tinkering with the typography on the site, it's an hour well spent. […] There is a time and place for the purposeful noisiness of busy.
---
Scrivener vs. Ulysses: Which One Should You Use for NaNoWriMo?
I'm a Ulysses fan, personally. I really like its clean interface and it has just enough features for it to be far better than Word, particularly as it allows you to organise all your documents within the app. Scrivener lets you do that too, but I've always found it overwhelming and, I'm slightly ashamed to say, quite a lot less pretty. Read this article though. If you're looking to move away from Word or Google Docs, Scrivener and Ulysses are ace options.
---
How to Build an Audience of 1000 True Fans in a Noisy World
You've probably heard about this idea that all you need is 1000 people to really love your work and you've got a chance of building a sustainable income. What I quite like about this article is it provides at least some guidance on how you might actually get 1000 people to love your work.
---
A Wild and Precious Life: A Recovery Anthology by Lily Dunn and Zoe Gilbert
This is an important book edited by people who know their onions and I really hope it gets funded. It's a collection of stories and poetry written by people who are in recovery from either physical or mental illness. Take a look, see what you think and consider pledging.
---
Twitter thread of publishers who run a subscription service
The folks behind @IndieBookshopUK on Twitter asked the following question in the following tweet.
It leads to an interesting though not exhaustive list of publishers who are trying out or successfully running a subscription service.
As I'm curious about these matters, I'm going to spend some time looking at how each publisher is doing it. What platform are they using? How much do they charge? What do readers get out of it? That sort of thing.
---
Tweets of the week
Tweets are but fatty deposits in a world of long-off gravy. But some of them are quite good. You can follow @iainbroome and @unslush on Twitter if you want.
---
First time reader?
If you are new to me and this newsletter, please feel free to join us and subscribe to get future correspondence right in your inbox. You can read a short bio on my website, where you can also find out more about my debut novel.
Join 1600+ super subscribers
I send two regular newsletters. Draft Mode (biweekly) is about the writing process, writing resources, creativity and being an author. Minifictions (monthly) features five original pieces of flash fiction.
Sign up once. Choose your newsletters.
Subscribe now