How to write a novel when you're too busy to write a novel
Six tips to help you get things done.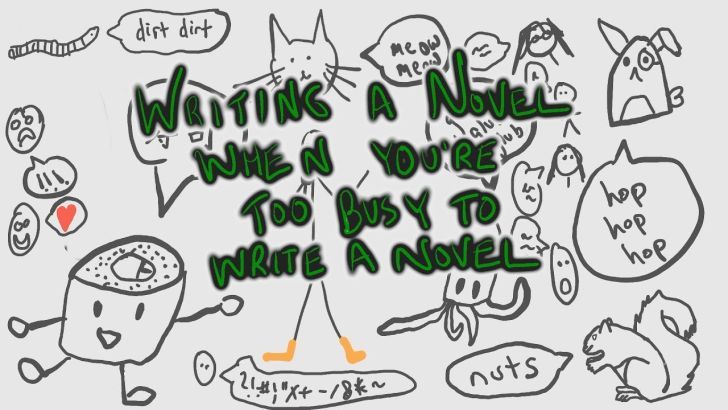 Thank you to everyone who read and shared my 101 things you need to know before going freelance last week.
You'll be pleased to find that since I published the article, I've had one of the most challenging weeks of self-employment so far. It's like the God of freelancing is punishing me for daring to think that I have any idea what I am doing. The absolute bastard.
Two things to ask you.
First, is there anything I can help you with? Any burning questions about the writing process, getting published or my own writing life that you would like me to answer?
I'm compiling a list of stuff to write and talk about over the coming months, so do hit reply or use the comments to send me your demands.
Second, have you got any good news to share? The first link below is to a fantastic video made by author and long-term reader of this newsletter, Yuvi Zalkow. He's just had his second novel accepted and it made me think, "Hey, why don't we have an Unslush good news corner?"
So if you're all excited about something writing-related and you'd like me to share it, just let me know. We're in this writing business together, me and you. Right? Right.
That's it. Enjoy this week's excellent selection of links.
---
Links of the week
Every issue I collect and share the best advice, apps and other shenanigans that I find on my internet travels. Find something useful? Subscribe for free
Writing a Novel When You're Too Busy to Write a Novel
As discussed in the intro that you may or may not have read, this video was sent to me by author and Unslush reader, Yuvi Zalkow. He has just had his second novel accepted for publication (🎉). He wrote it while working a full-time job, wrangling children and tackling various other life problems too. Sounds familiar! Watch the video. It's both helpful and amusing. Double trouble.
---
Subscription Marketing for Authors: A Primer
This is a guest post by Anne Janzer on Jane Friedman's always marvellous blog for writers. It contains lots of good advice if you've ever thought about setting up your own Patreon or some other subscription scheme to support your writing.
I don't know about you but I typically subscribe to things with actual money for two reasons. 1) I really like 'the thing' and want more. 2) I believe in the person and want to support them. It's often more 2 than 1.
This article and many others I've read refer to the issue of churn – people subscribing to your scheme and then stopping soon after. Honestly, I'm kind of fine with that. I think supporting the arts and people making art is fantastic, but no one should expect lifetime financial backing from supporters.
Whether you pay to subscribe to your favourite newsletter, podcast or whatever for one month, one year or until the end of time, you are making a difference. It all counts.
---
"Just commit to that spiral of change"
This personal piece on 'finishing' by playwright and screenwriter, Emma Adams also happens to include some great advice on writing.
Here's a good bit:
There are many reasons why finishing a script is hard. It can be the idea of being defined by what we finish. What if it's not good enough? The potential of 'it can still be so many things' is replaced by the fact that it has turned into simply 'this'... That alone is enough to give anyone the shits and never find a way to end.
The always-upsetting reality. Writing is difficult and often unpleasant. It's a fool's game. No one in their right mind should attempt to write anything at all. But if you do. And if you finish. It will make you feel like the King of the hill. Queen of everything. Cock o' the flippin' North.
---
Simon Cowell has just been given a six-book publishing deal somewhat weirdly with his son who is also a child. Generally, I don't let the obsession with celebrity authors bother me too much. But this thing with Simon Cowell I do find pretty irritating, and only partly because he has for many years appeared to be a total buttface, as some of his readers might call him.
Here is very good Twitter message.
You should also read this piece called The Empty Shelves by children's author, Dawn Finch. It says important things about choice and visibility.
---
Namewink - Name Generator for Unique and Creative Ideas
In one way, this is a website designed to get you to click on the domain names it generates to bag some lovely affiliate link money (if you go on and buy one). On the other hand, I just lost 15 minutes scouring names for fictional companies that I might use in my writing. And then another 15 on trying to name side projects that I will never actually work on. Good fun all round!
---
Best of the rest
On reading more than one book at a time
Wait! 5 Novel Editing Questions to Ask Before Your Book Is Actually Done!
Why Do I Fall Asleep When I Read? (And Tips On How To Stop)
How to create a premium newsletter (+ successful case studies)
55 Social Media Hashtags For Book Authors (And How To Use Them)
---
How to be helpful
If you enjoy this newsletter, there are three things you can do to help.
Share it with someone else.
Click/tap the little ❤️ icon there at the bottom.
---
Tweets of the week
Tweets are but farts in an elevator of shame. But some of them are quite good. You can follow @iainbroome and @unslush on Twitter.
---
First-time reader?
Unslush is written by Iain Broome, freelance writer and author of the well-thought-of but not-bestselling novel, A is for Angelica.
Join hundreds of other fine people and subscribe to get the best writing and publishing-related links sent straight to your inbox. Head to the exciting Unslush about page to learn more and sign up.
Join 1600+ super subscribers
I send two regular newsletters. Draft Mode (biweekly) is about the writing process, writing resources, creativity and being an author. Minifictions (monthly) features five original pieces of flash fiction.
Sign up once. Choose your newsletters.
Subscribe now