The next step
Services for authors, building an author brand, editing your novel, TikTok for authors, platforms for serialised fiction.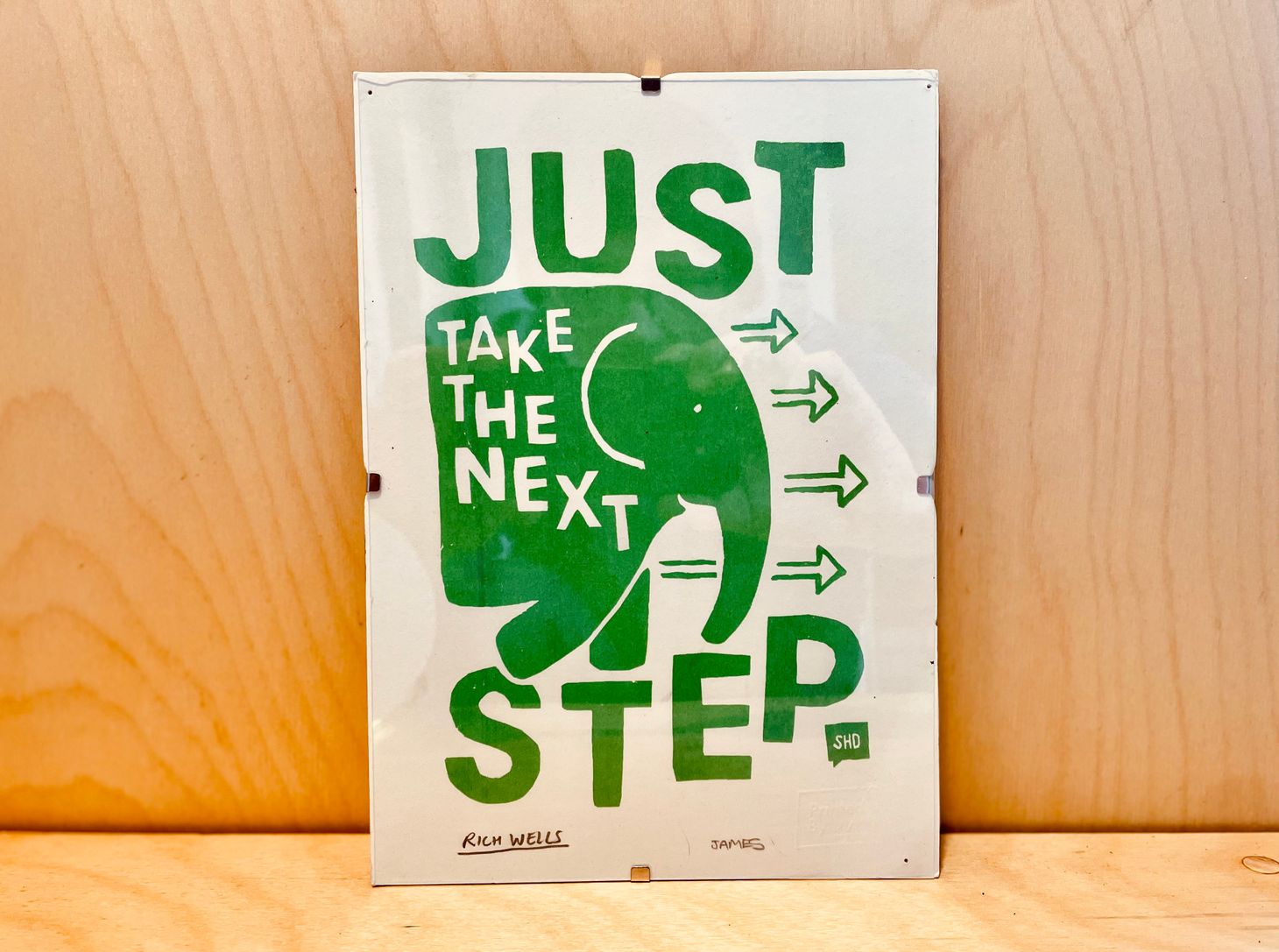 Welcome to another edition of the Draft Mode newsletter.
I have a lot going on at the moment. Lots of ideas for my writing, this newsletter and some more work work-related projects. And I feel very conscious that nothing actually happens unless you take the next step, whatever that is, big or small.
Speaking of big steps, you need to check out a new platform called Services For Authors launched last week by Sam Missingham. It connects writers with freelancers who can help with editing, formatting, marketing, or something else that helps you improve or promote your work. You can sign up for free as a writer and pay a very reasonable fee if you're offering your services.
Do enjoy your content feast below. I'm having a little play around with the format at the moment as I try and well... take the next step.
Iain
PS The image above is a screenprint from the tall, lovely and talented Rich Wells in collaboration with Printed By Us.
---
Links of the week
Every issue I collect and share the best advice, apps and other shenanigans that I find on my internet travels. Find something useful? Subscribe for free.
How to take the cringe out of author branding
Anna Caig, who happens to be part of the brill Writers Workshop here in Sheffield, offers some great advice on building a brand as an author. It can be a daunting and not-fun-at-all thought for some people, but there is loads of scope to share you and your writing with the world on your own terms.
Oh, this is one of 190 handy writing-related videos from Society of Authors.
---
Oh God, one day I'm going to have to join in aren't I? If you're already doing your thing on TikTok, here's some ace advice on how to cut it as a writer there.
---
The Key Book Publishing Paths: 2021-2022
Jane Friedman has been maintaining this fantastic resource for years and keeps it up to date just for us. If you want to know the different ways you can enter the industry as an author, this is for you.
---
10 tips to help you edit your novel
Sure I've linked to this before, but I'm doing so again because it so succinct, practical and super useful. From the Curtis Brown Creative blog.  
---
3 Best Online Publishing Platforms for Serialised Fiction
Looking to publish your writing in some sort of ongoing format? You know I'm a sucker for a pop-up newsletter, but you should probably check out these options listed by Novlr, a pretty great online writing app.
---
Links in brief
---
Tweet of the week
So many bad tweets. This is a good one. Follow @iainbroome on Twitter or @DraftModeHQ for newsletter notifications.
---
First-time reader?
Draft Mode is a weekly newsletter by Iain Broome, author of the novel, A is for Angelica. Join 1400+ subscribers and start receiving tools and tips that help you improve, publish and promote your writing. Subscribe for free.
Join 1600+ super subscribers
I send two regular newsletters. Draft Mode (biweekly) is about the writing process, writing resources, creativity and being an author. Minifictions (monthly) features five original pieces of flash fiction.
Sign up once. Choose your newsletters.
Subscribe now