The long haul
Beating the blank page, storytelling tips from Marvel, create YouTube videos with your phone and how to become a ghostwriter.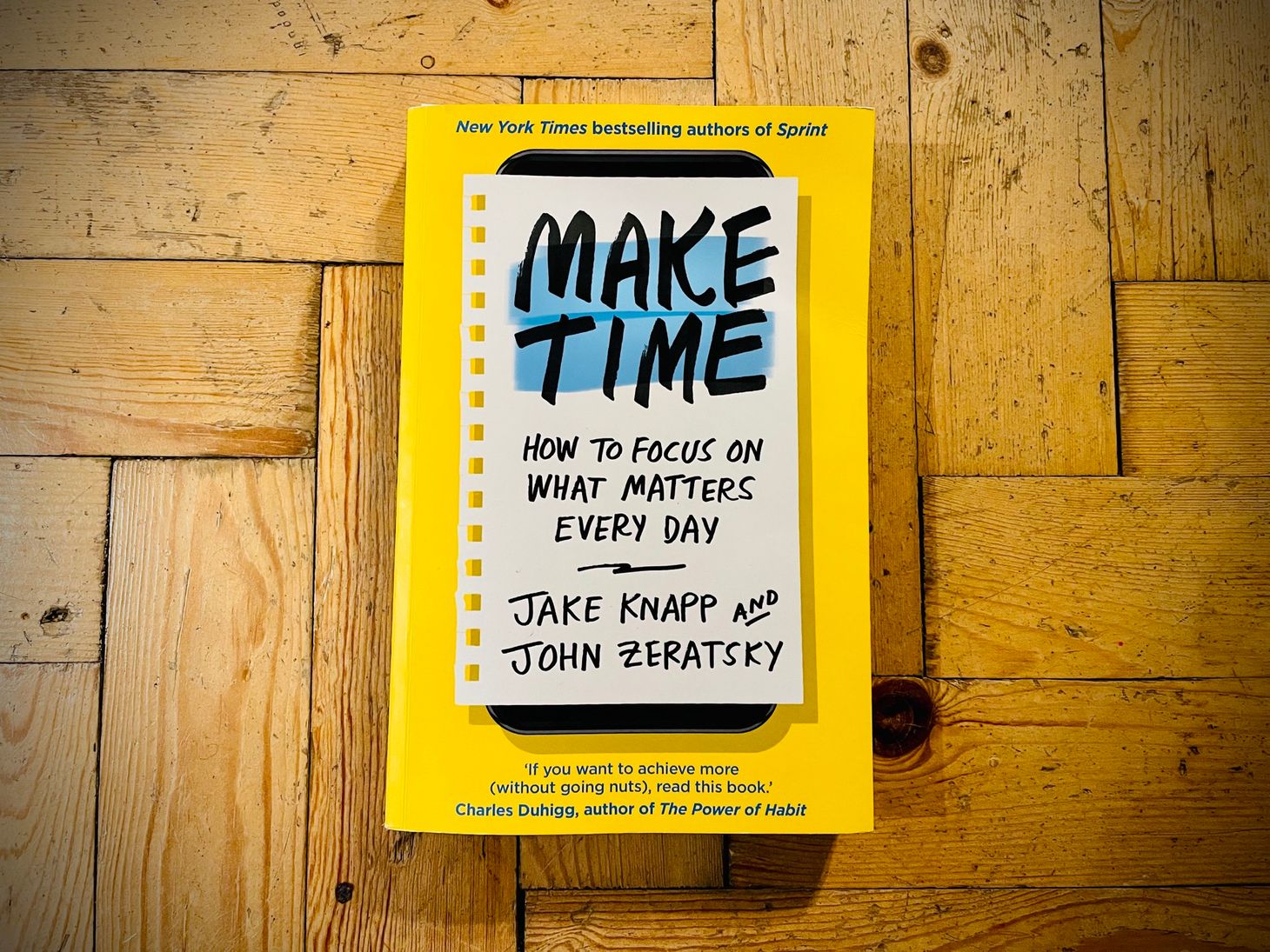 It's me Iain Broome, back once again for the renegade master, but also to send you another edition of the Draft Mode newsletter.
I don't tend to read a lot of productivity books. That's mostly because they rarely account for being parent to four small children or any other kind of unavoidable life nonsense.
"Wake up at 6am and write for a couple of hours before work!"
Mate, I'm already running a full-on cafe at 6am. Then I'm changing nappies and yelling to myself about what day it is and which clothes people need to wear. There are many tears and not enough toothbrushing. By the time work starts I've already used up all the life force I can muster. You're lucky I'm alive.
Anyway. What I'm saying is – I am currently reading a productivity book. It's called Make Time and it's by the same two chaps who wrote the bestselling Sprint, which is very good. I'm finding some of the ideas in Make Time to be really useful. The daily highlight. Blocking time on my calendar. I'm hoping the changes stick.
Which leads me to a question for you.
What's the one productivity tip that you've tried and found to work? What helps you get writing done? That's two questions. Whatever.
Reply to this email and let me know! Or you can send your thoughts to hello@iainbroome.com and that'll reach me too.
Until next week. Enjoy the exciting content below.
Iain
---
Links of the week
Every issue I collect and share the best advice, apps and other shenanigans that I find on my internet travels. Find something useful? Subscribe for free.
I may have been watching videos of Lydia Davis talking about writing again. I enjoyed this very short clip where she explains her approach to getting started. In this other interview, she gives some golden nuggets of advice for 'young writers'. But good advice is good advice, so if you're like, totally old, you'll enjoy it too.
And one more thing. If you really like short fiction – like, really short stories – then you will love Can't and Won't by Lydia Davis. It was one of the collections that really made me want to start writing more of my own tiny tales.  
Buy it through the Bookshop.org link below and you will a) support independent bookshops, and b) see me get a small but exciting commission.
---
How to tell a story according to Marvel
This post on KM Weiland's blog for writers contains links to several other posts that each use a different Marvel film to explain the mechanics of storytelling. From action scenes and foreshadowing to choosing the right character as your baddie, I suspect you'll find more than a few of these examples super useful.
---
Ever considered becoming a ghostwriter? Seems it's an increasingly common and potentially lucrative option for many writers. This article by Jools Abrams on the Mslexia blog gives you some useful insight into how it all works. It includes a few handy follow-up resources too.
---
You're never going to finish your to-do list – and that's fine
Interesting post on getting stuff done by Oliver Burkeman on the Penguin blog.
Pick something from it that really matters (and don't worry about making the perfect decision, either). Do that thing. Then repeat. You won't get to the end of the list. But that was out of the question to begin with.
It boils down to the idea that saying no to most things means saying yes to the important stuff. Like writing a novel, for example.
---
How to Film YouTube Videos on Your Phone
What the hell has this got to do with becoming a published author, right? Very little, in many ways. But also plenty if you want to start making videos to share your writing, build a readership or promote the heck out of whatever you're working on. This is from Ali Abdaal's blog and he happens to also run an extremely popular YouTube channel too.
---
Substack and the challenge of subscriptions for authors
This is a super piece by Jane Friedman 👋. She tackles the hype around paid newsletter platform, Substack and its increasing popularity with authors. It includes links to various other articles that you might find interesting.
I am personally quite optimistic about how writers might be able to fund or part-fund their work through a membership programme. Heck – it's what I hope to do through my own website in the relatively near future.
But you do have to be clear about what you're offering, who and how many people might want to pay for your content, and if it will make any material difference to your career. These are difficult questions. You may not be able to fully answer them until you... give it a go.
Here are some things I'm fairly sure of though. From experience and no small amount of research.
Most writers who enjoy your writing advice won't pay for your actual writing.
Most subscription programmes take years to grow, so you need to be in it for the long haul.
If you make something people want, there is a chance they will pay for it.
One other thing I feel sure about is that you should not expect a life-changing book advance to come along and make you a full-time author. I mean – goodness me – there is a reason I have had to focus on my entirely separate career for almost a decade. Be willing to experiment.
Sure, it may not work out, but given how hard it is to earn a living from your writing, it can't hurt to have an open mind and see what happens. To try and do things a little differently.
---
Tweets of the week
Tweets are but grizzly chicken nuggets on a giant plate of food that's proven to be bad for your health. But some of them are quite good. You can follow @iainbroome and @DraftModeHQ on Twitter.
---
First-time reader?
Draft Mode is a weekly newsletter by Iain Broome, author of the novel, A is for Angelica. Join almost 1200 subscribers and start receiving tools and tips that help you improve, publish and promote your writing. Subscribe for free.
Join 1600+ super subscribers
I send two regular newsletters. Draft Mode (biweekly) is about the writing process, writing resources, creativity and being an author. Minifictions (monthly) features five original pieces of flash fiction.
Sign up once. Choose your newsletters.
Subscribe now