Permanent Post-it note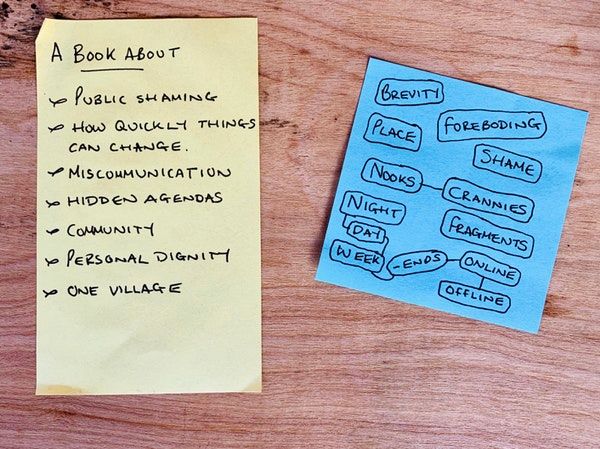 Just a quick note to say that this will be my last or next-to-last email sent in this format via (the generally excellent) Revue. I've decided to up sticks again and try something a little different. Not that different. But a little different.
With that in mind, do you have any burning questions about writing or publishing you might like me to answer? Is there anything about my own writing and publishing experience (or even my day job) that you'd like me to share?
If so, please feel free to hit reply and send me an email. And if you think someone else would enjoy this newsletter, forward it on and tell them it's – you know – a thing. That they will like.
Enjoy the links below…
PS Thank you to those of you who kindly pointed about my brilliant and definitely intentional 'golf horse' typo last week. Well spotted. You all passed the test.
---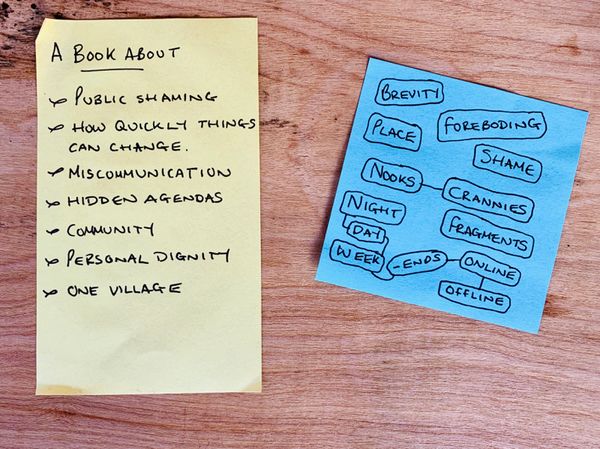 I really enjoyed this first edition of Nikesh Shukla's new email newsletter for writers. And in particular, this idea of knowing what your novel is really about is something I can very much get behind.
I don't think I knew what A is for Angelica was really about until maybe half way through. But for novel number two, I've had the Post it notes pictured above attached to the wall from more or less the beginning.
I've got a bit of a thing for Post its when it comes to planning and most get scribbled on and swapped around. But I think of these as my permanent Post its, because when I'm in the weeds, it is very useful to just check in to remind myself that – ah yes, that's the book I am trying to write.
The best podcasts about writing
Fantastic list of podcasts for writers compiled by the ace Sam Missingham who has just launched a new site called The Empowered Author. It's full of useful information, interviews and other such goodies. Of this list, I can highly recommend What Editors Want (see below).
---
---
The 25 Most Important Characters of the Past 25 Years
These lists are always good fun to read and there is plenty here on what makes a good character. More than anything though, this is just another reminder that I never got round to watching The Sopranos and that – yes – perhaps I should.
Super collection of blog posts and interviews with authors and other publishing types from the National Writing Centre for Writing. An absolute treasure trove of good advice and practical tips.
Pocket – Save articles and videos for later
For many years, I used Instapaper to save articles for reading later. Last month, I finally switched over to Pocket because it's easier to hook up to IFTTT. That means I can make this thing that I have been working on and plan to share with you as part of the newsletter shake up. And yes, I know that none of this makes any sense.
Alex Christofi on What Editors Want
What Editors Want is a brilliant new podcast for writers. I like it because I don't think we authors and aspiring authors get to hear directly from editors and agents as much as we could. It's really helpful to better understand the industry and what goes into publishing a book. This episode featuring Alex Christofi from Oneworld is my favourite so far.
Pacemaker – A Simple Flexible Word Count Planner
This looks like an interesting way for you to track your writing progress. It wouldn't work for me, as I never know how much time I will have to write from one week to the next, but if you like word counts and graphs, this could be your lucky day (punk).
---
Join 1600+ super subscribers
I send two regular newsletters. Draft Mode (biweekly) is about the writing process, writing resources, creativity and being an author. Minifictions (monthly) features five original pieces of flash fiction.
Sign up once. Choose your newsletters.
Subscribe now