Book planning with Post-it notes
Plus how to get published (again), writing every day (again), and a new app that has some nifty writing features.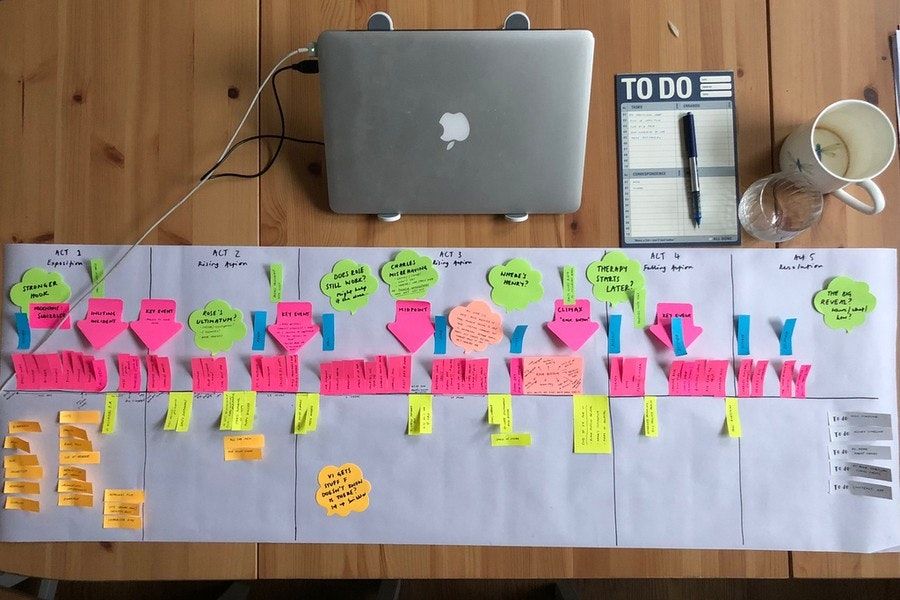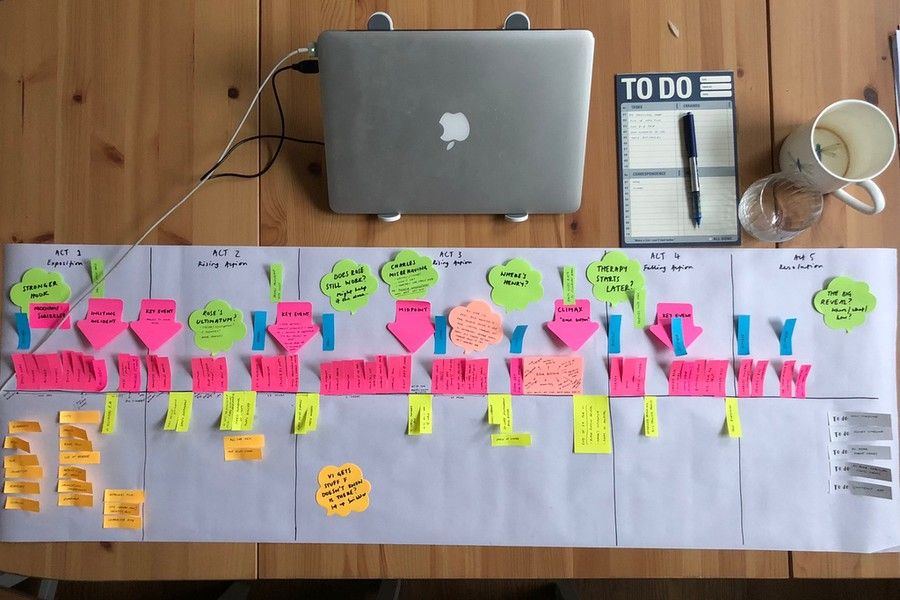 Hello there
I use a lot of Post-it notes in my actual job as a content designer.
And those of you who've followed my nonsense for a while will know I used Post-its to plan big chunks of my debut novel, A is for Angelica. I have a simple system for doing it and I've been promising to share it for a decade. I keep forgetting. One day soon.
The image above is from Sheffield-based author, Letty Butler who shared her Post-it planning on Twitter this morning. The magic of Post-its is that all you need is an empty wall or window and you can stick things up and move them around as much as you like. Being able to stand back and see your whole book in one place is pretty handy.
But what if you don't have a spare wall or you prefer to keep things digital? Well, I've spent the last year using two tools in particular that are perfect for doing something similar to Letty but on a shiny, bright screen.
Miro allows you to create virtual sticky notes on a huge canvas. You can connect notes, move them around, and work in real-time with other people. It is very powerful.
Mural does all of that too, but with fewer bells and whistles. My preference is Miro, but you may find Mural easier to pick up and get going.
That's it. Enjoy the links below. And do leave a comment on the online version of this email if you have any exciting Post it tips, either virtual or IRL.
Iain
---
Links of the week
Every issue I collect and share the best advice, apps and other shenanigans that I find on my internet travels. Find something useful? Subscribe for free.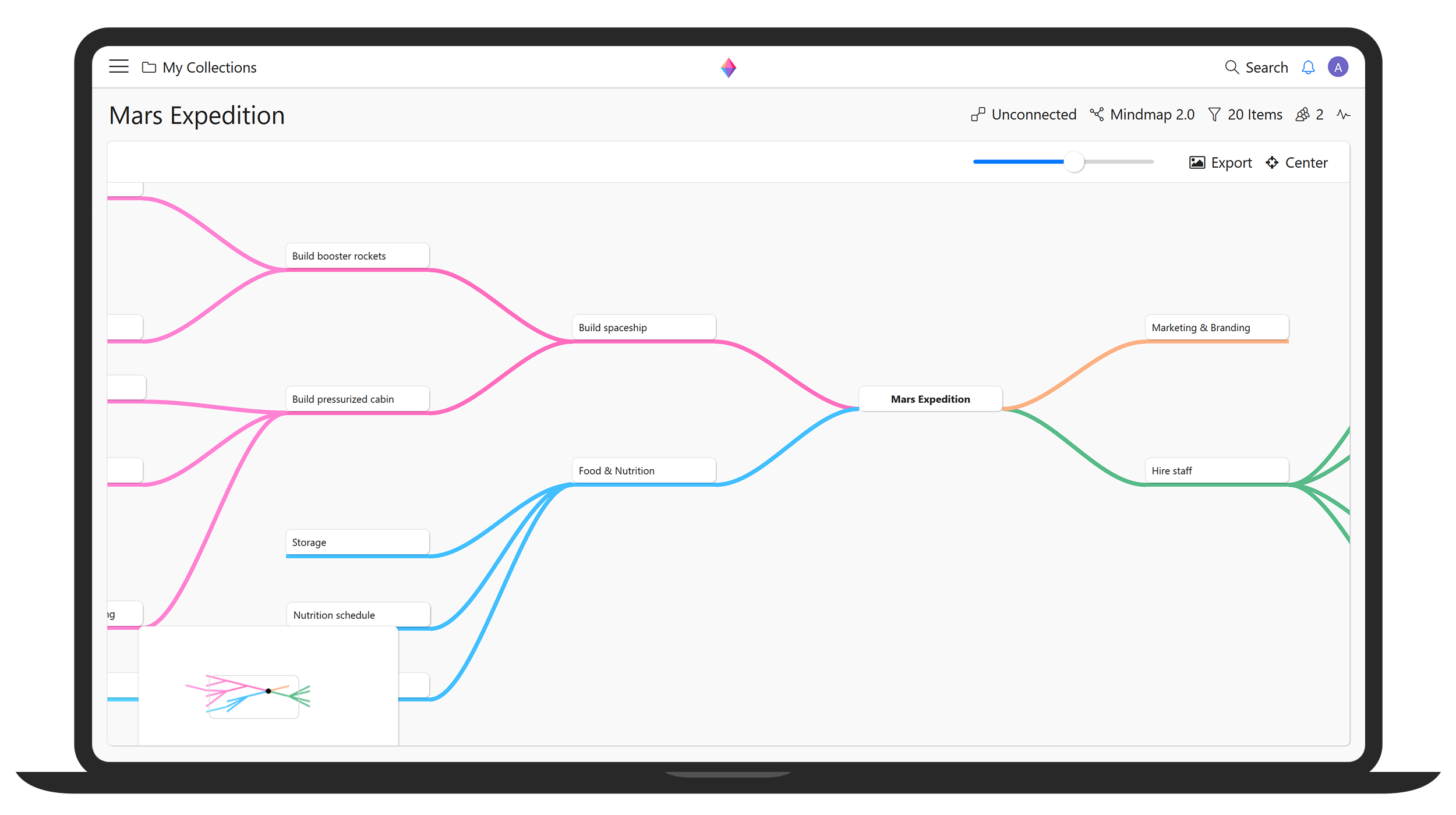 Zenkit Hypernotes - Experience a new way of collaborative writing
I spotted Hypernotes on Product Hunt this week, but haven't had chance to give it a try. It has strong Notion vibes, but with other stuff you might be interested in, like mind mapping and outlining features.
---
Some no-nonsense truth-bombs in this blog post by Matt Casbourne. Turns out your chances of making it aren't entirely dependent on your book being, you know, really, really good.
---
Should Writers Write Every Day?
Chuck Wendig articulating a lot of what I've always said about writing every day. Basically, you do not need to write every day. There are times when you need to push. But most importantly, find and do what works for you.
---
Ghost 4.0 – Membership Software: Sustainable revenue for publishers
The latest version of Ghost is out. If you're looking to start a blog, newsletter or try something new with your website, you should take a look. I'm looking at squishing my personal website and this very newsletter together using Ghost. Will keep you posted.
---
How I (Barely) Survived the Abject Failure of My Much Hyped Debut Novel
Enjoyed this tale of publishing triumph and woe from author, David Hollander. From what I know, there is no one publishing experience for authors. We are each thrown to the wind and swirled away by serendipity, misfortune or most likely, a little of both.
---
Help us grow 🌱
If you enjoy this newsletter, there are three things you can do to help it (us!) grow and reach more people. Which would be lovely.
Share it with someone else. Forward the email. Post on social.
Click/tap the little ❤️ icon there at the bottom. It actually helps.
---
Tweets of the week
Tweets are but stripes on a zebra that dreams of being a horse. But some of them are quite good. You can follow @iainbroome and @unslush on Twitter.
---
First-time reader?
Unslush is an email newsletter written and published by Iain Broome, freelance copywriter and author of the novel, A is for Angelica.
Join 1000+ other fine people and subscribe for free to get the best writing and publishing-related links sent straight to your inbox. Learn more and sign up.
Join 1600+ super subscribers
I send two regular newsletters. Draft Mode (biweekly) is about the writing process, writing resources, creativity and being an author. Minifictions (monthly) features five original pieces of flash fiction.
Sign up once. Choose your newsletters.
Subscribe now