Audiobook marketing, more membership tools and some financial truth bombs
Watch me get my bits and pieces out on the table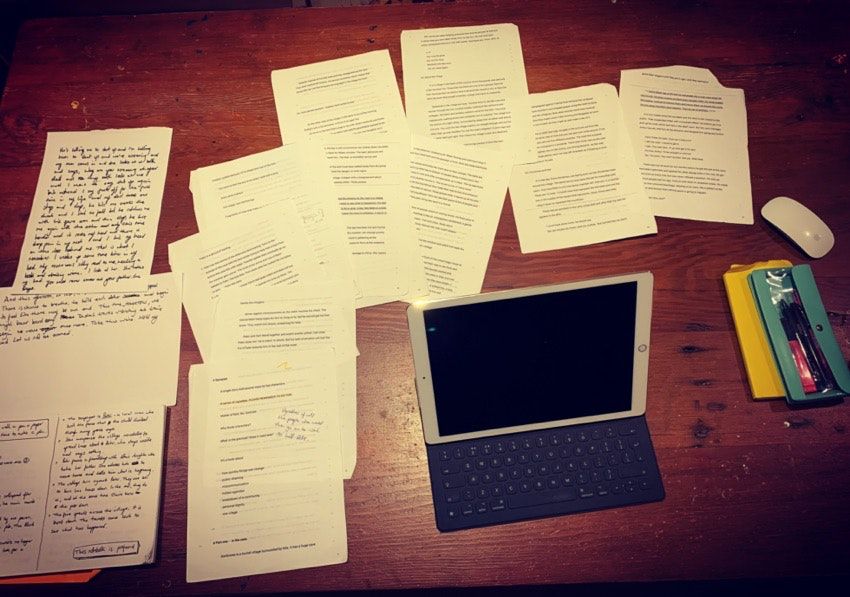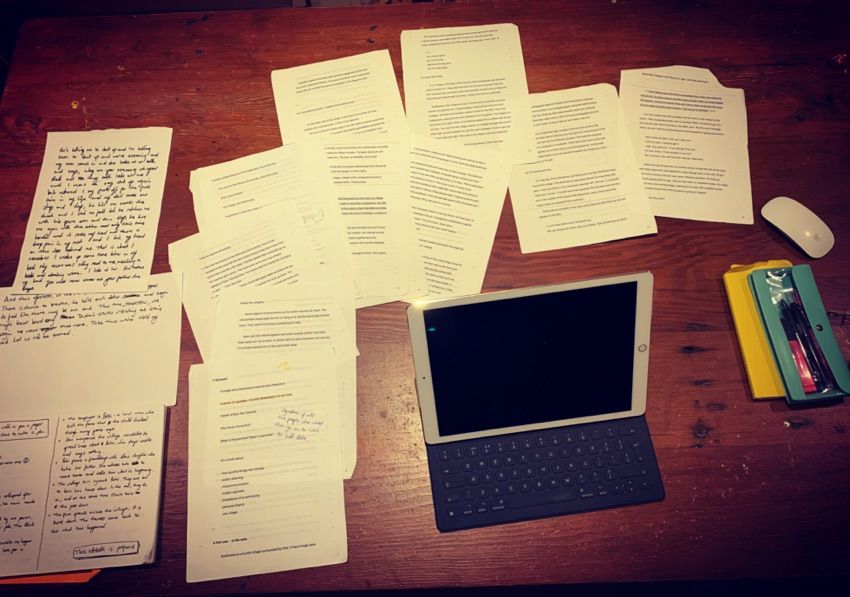 I do not feel like I have more time. I feel like I have less time.
However, in this unusual and life-changing period, I am trying to get on with the second novel. I took this picture last week. I'm not sure I did any actual writing in the hour or so I worked on the book, but it was so nice to get all of my bits and pieces out on the kitchen table.
I can recommend doing this. About halfway through writing A is for Angelica I got myself into a right old tangle. My route out of the mess was via pack of Post it notes, which I used to visualise everything I'd written on a lovely blank wall.
I don't know why, but there is something about seeing what you've written. And I mean all of it, whether it's a load of print outs, all your scribbles or just the skeleton of the thing on some Post its. It somehow reminds you of all the hard work you've done so far. And it helps you think about your writing as a real, physical thing in the world.
Fire up your printer. Open your notebooks. Grab your Post its. And give it a try.
Quick note. I shared the above picture on Twitter in the sprit of Show Your Work and all the likes and kind words gave me a much unexpected lift. In the weeds of real life, especially right now, it's very lovely to know that there are people interested in and waiting to – eventually – read more of my fiction. Forgive my ego:
---
Links of the week
Every issue I collect and share the best advice, apps and other shenanigans that I find on my internet travels. Find something useful? Subscribe for free.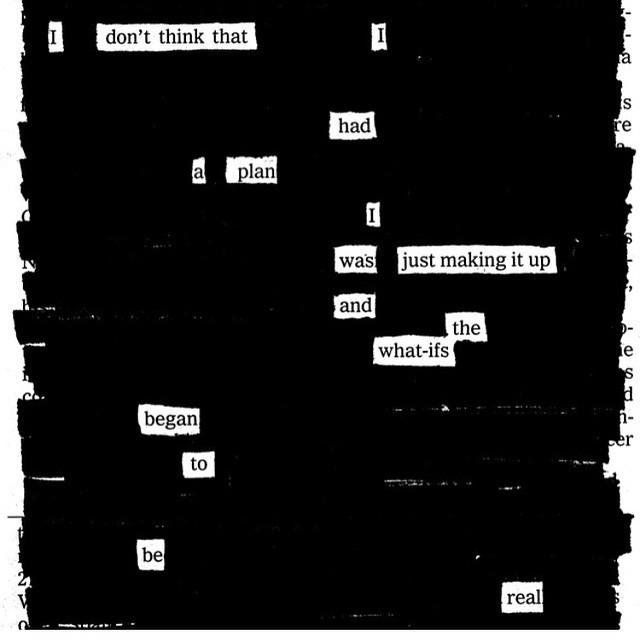 3 thoughts on a decade of publishing books – gold from Austin Kleon, my go-to internet person, as you probably know by now (that's his blackout poetry above)
Taskade – The Unified Workspace – this looks like a neat way to organise yourself, especially if you work with other people
Ten lockdown self-care tips for writers – also just lots of good advice for anyone right now, not just writers (from the ace Gareth L Powell)
The Science of Reading – fascinating long read – do you hear your characters speak?
Shakespeare indoors: What the Bard did during self-isolation
How I shipped my new design portfolio under 5 hours – who needs a website when you can have Notion?
The Membership Toolbox – apps and services for setting up a membership scheme (via Katy Carlisle who runs Community Toolbox)
Reality writes – the depressing financial truth of being an author
Book Marketing: 16 Ways To Market Your Audiobook – cracking practical advice from Joanna Penn, as always
How to Pitch Anything – great pitching tips (or no nos) from Kate McKean in her ace newsletter
Coronavirus and COVID–19 clear language list – you know I love me a bit of the old plain English
Latest issue of Five Dials magazine – I've not read any of it yet, but it's always ace
---
How to be brilliant
If you enjoy this newsletter, there are three things you can do to help.
Share it with someone else.
Click/tap the little ❤️ icon there at the bottom.
---
Tweets of the week
Tweets are but filthy nappies in a metal bin made for dog muck. But some of them are quite good. You can follow @iainbroome and @unslush on Twitter.
---
First-time reader?
Unslush is written by Iain Broome, freelance copywriter and author of the novel, A is for Angelica, which 4.2 stars worth of people enjoyed on Amazon.
Join hundreds of other fine people and subscribe for free to get the best writing and publishing-related links sent straight to your inbox. Head to the exciting Unslush about page to learn more and sign up.
Join 1600+ super subscribers
I send two regular newsletters. Draft Mode (biweekly) is about the writing process, writing resources, creativity and being an author. Minifictions (monthly) features five original pieces of flash fiction.
Sign up once. Choose your newsletters.
Subscribe now