Standing at the sky's edge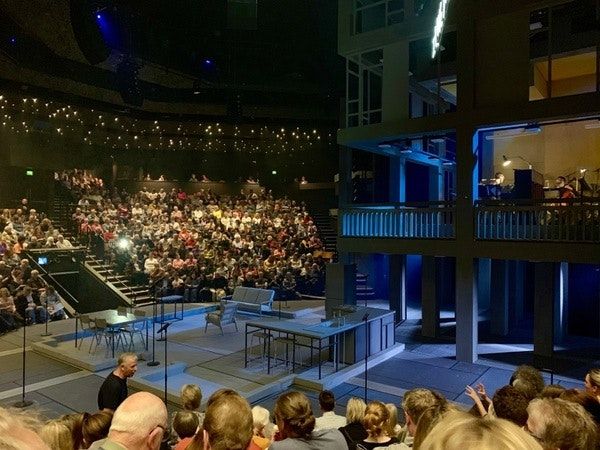 Last week, I went to see a musical called Standing at the Sky's Edge. It's set in my adopted city of Sheffield and features the songs of Richard Hawley, a Sheffield native whose music I've always loved.
It was brilliant. Not just an homage to the place I've called home for almost 20 years, but a stark reminder that politics matters, places change and there is always hope. Somewhere. If you search for it.
I'm sure they will release a cast recording at some point, but if you're interested, someone has made a Spotify playlist of Hawley's original versions, minus the new songs he wrote for the show.
I think that Coles Corner is in my top 10 favourite songs by anyone ever, and you can't go wrong with As The Dawn Breaks.
Enjoy this week's links. If you'd like to support the newsletter, please forward it to a pal or spread the word.
---
I Cured My Social Media Addiction by Reading Books
This piece sort of wanders off in the middle and never comes back. However, I can very much relate to that now-natural impulse to check Twitter, or more commonly in my case, the latest Brexit bollocks. If I could replace that impulse with reading a book, I'm pretty sure I would a) read more books, and b) improve my general wellbeing.
And so this is rather timely, given the link above. Austin Kleon has written about this stuff before and it always makes me think about my own reading habits. The one I want to try most in this list is to always have a book with me – it's almost too obvious and yet I rarely do it.
Reddit for Writers: 47 Writing Subreddits to Explore
I must confess I'm not on Reddit, as I'm not sure my brain can cope with one more think to keep track of. That said, until I saw this list of writing-related subreddits, I'd also never thought of it as a place that could be useful.
---
---
100 Great Podcasts Worth Listening to
As always with these lists, it's made up almost entirely of big-name shows or those that already have a decent following. Nevertheless, if you're on the lookout for something new to listen to, you'll find something here.
Top 10 books writers should read
I loved DBC Pierre's book on writing, Release the Bats. In this article, he picks out the books that he recommends writers read and I have to say, it's a pretty interesting list. Not your typical choices.
Bear – Write beautifully on iPhone, iPad, and Mac
I've been using Bear as my note-taking app for a couple of years. It's where I put ideas, the occasional list, and various bits of short-form writing for clients. The tagging system is great and it syncs really well between my laptop and phone. Five stars. Do recommend.
Oliver Jeffers | People Live Here
In our house, we love Oliver Jeffers' children's books, which he both writes and illustrates. He's a very interesting chap too, as you'll see if you watch this talk on art, politics and looking after this daft sphere we all live on.
Join 1600+ super subscribers
I send two regular newsletters. Draft Mode (biweekly) is about the writing process, writing resources, creativity and being an author. Minifictions (monthly) features five original pieces of flash fiction.
Sign up once. Choose your newsletters.
Subscribe now